I had a great visit with my Buddy doubleDD
I got a PM message from Dave AKA (doubleDD) close to the end of 2016. He talked about a vacation he was planning to St Augustine Florida. Dave asked how far it was to my place and if not to far maybe we could get together and meet up for some shop talk. On Monday Dave called me and said he was on his way. We talked shop for almost 4 hours and boy did that time fly by! I think we could have spent the entire day and then some talking shop. It was a fantastic visit and so nice for me because there is absolutely no one around my neighborhood that does woodworking.
In my shop I handed Dave a one of my Pizza peels as a gift and Dave had one for me but said he left at the condo on the counter and he would mail it to me. No worries I said but now I'm thinking like a little kid wondering what the heck it could be. So after a time Dave had to call it a day and head back to the condo and as he pulled away from our house I immediately thought "Oh Crap" we didn't take any photos or selfies together! So after a few Lumberjock PM's to each other we talked about how we both forgot about taking photos laughing at each other and how forgetful we are. So a few days go by and I got to thinking; maybe we could have a 2nd meeting. So I called Dave and we set up a 2nd meeting. We met half way at a Mickie D's and this time we rectified our forgetfulness. This time Dave had my gift with him…. a beautiful hand crafted Chisel Plane (so nice it's going to be hard to use) and that started us talking more Shop Talk that lasted quite some time in the Mc'parking lot. My wife Carol was with me and she took photos of us holding our gift to each other. I felt like I knew Dave all my life with all that we had in common and how pleasant our meeting was. I'll add a few photos here and I hope Dave chimes in and adds a few of the photos my wife took with his camera.
Thanks for a fantastic visit Dave!
.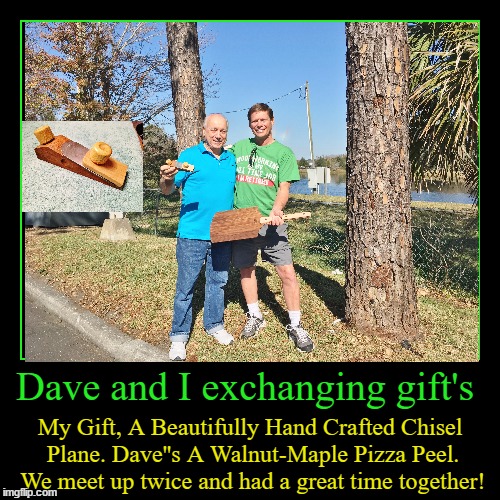 -- St Augustine FL, Experience is the sum of our mistakes!
---