Every wood worker needs a knob every now and then to tighten movable elements or attach some part to a machine or jig. In this small series I want to cover the wooden knobs I made myself so far.
The first knob I found usable and easy enough to make myself was a starfish knob with 5 arms . It is quite large and you can grab it conveniently with your hand to tighten with force.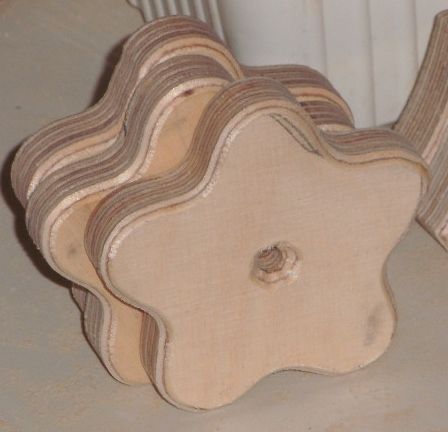 In the video the parts between the arms were drilled out and the rest was cut away with a bandsaw. Since I am no master of the bandsaw this turned out quite ugly.
Then I remembered some long disused dumb bells and their nuts in exactly the wanted shape. I have some with 5 arms and some with 6.
I made a simple jig which tightends the blank on top of the metal nut and a fence around everything in the right height. That way the router is always level with the knob. A piece of sanding paper prevents the wood from moving. The paper is held in place with carpet tape.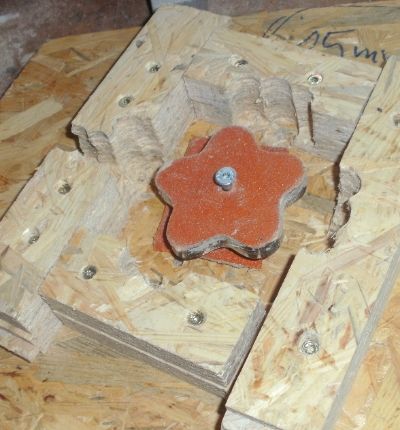 The blank is roughly shaped with a bandsaw and finished with a flush trim bit in the router. On the back side I have another fence in the height of the knob. I can then screw the knob to the board and chamfer if with my router.
Nowadays I use my tilting router table to chamfer the edges, but back when I made the first ones there was no such luxurious machinery.
Depending on your application you can then glue a bolt or a nut into the knob. When you need a bolt you should use one with a hexagon head. Use a chisel to make a snug recess for the head and glue the bolt with epoxy glue. Similarly you can glue a hex nut into the knob.
But usually I prefer t-nuts when I need a female thread.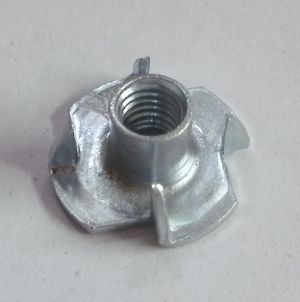 I like to countersink the nut so it is flush with the surface afterwards, but this is not needed and a matter of taste. Then I put the nut in place and give it a slight whack with a hammer to mark the places of the prongs. You should pre-drill for these as they might crack your knob otherwise. Then I apply epoxy glue and drive the nut into the wood with a vise. Additionally I insert a bolt from the other end and tighten it until the glue is dry.
---