Hello everyone, I am as proud as a father could be, my daughter chose woodworking as her 4H project. That means I get shop time with my little girl. I always enjoy anytime I can get her in the shop and interested in building. Well she chose to build a picture frame, but wasn't happy with the plans they had in the 4H book, so I told her to find one on the net that she liked and we would build that. She found one and away we went. So here are some pics of Daddy's little girl in the shop. Hope you enjoy 1/10 as much as I did.
Here we are cutting some boards to size.
Now its off to the planner to thickness the lumber.
After the planner we went to the tablesaw, now as you might guess I didn't let her use the tablesaw, she will have to be alittle older and pay more attention than she does at this age.I did get her to clean it up after I was finished though.
So after the lumber was all cut and planned it was time for some glue ups.
She is drilling 4 holes for the columns with a forstner bit at the drillpress.No the drill is not on in this pic but she did drill the holes herself with my help.
Doing some dry fitting.
Clamping the picture frame together.
Wet sanding with mineral oil after the shallac is dry.
And finally the finished product with a pic of our dog. I forgot to tell you that the wood is walnut.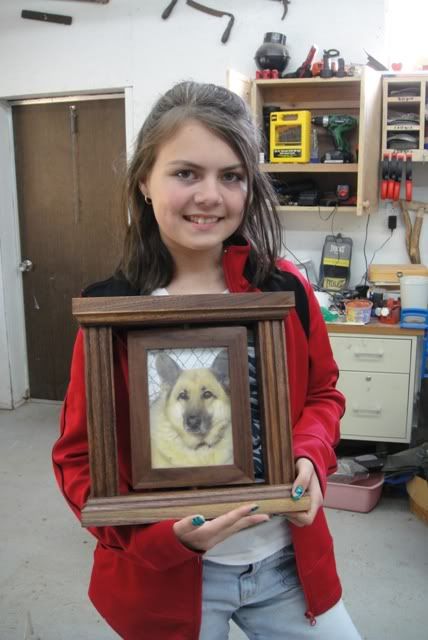 As you can see there are some steps left out but I thought it was getting alittle long. Hope you enjoyed.
-- F.Little
---