I've gotten pretty far along here in constructing this baby cradle but not as far along as the mother has! The baby was delivered on the 29th of February-a Leap year baby! I thought I had until the 14th of March to complete this but-now I'm behind!
When I decided to start this project, I had an idea but no plans and decided it would just have to be built from the bedding sizes available from a store selling mattresses for cradles. So after having discovered that several stores listed 18" x 36" as sheet sizes for cradles, I started. I deduced that the overall cradle had to be 38 1/2" long this left 1/2"mattress clearance on each end inside cradle for bedding and finger access. Inside width was 18" I didn't feel I needed any additional clearance for mattress as the sides of the cradle would be angled outward. Next I cut two rails to length of 37" and mortised them to the maximum depth of my chisel/mortise attachment which mounts on my drill press-I could only get 3"deep. So I ripped the two rails with the tablesaw fence set at 2 3/8" this was the bottom rail size and with 1/8" width lost to the saw blade, the top rail was left with 1/2" deep perfectly mating 3/8" square mortises. The table mounted router was set up using a 3/16" round over bit and all 4edges of the 4rails were rounded. Cradle side height had been decided on as being 18 1/2" so this left the picketts at being 13 3/8" long-I used 1/2"long tennons. Using stock I milled to 3/4"X6 1/4"X13 3/8" the dado blade for the tablesaw was set to 1/2"width and 3/16"high so that I could cut the shoulder,face, and length of the tenons by passing the width of 6 1/4" stock top and bottom faces over the dado blade. There were 5 pieces of 3/4"x6 1/4×13 3/8" stock used. The tablesaw fence was set up at 5/8" from a thin kerf blade and the stock was then ripped the 13 3/8" length in order to yeild 8pieces of 5/8"x3/4"x13 3/8" stock with almost complete tenons on each end-this was repeated with the other pieces until i had actually 40 picketts. I lowered the table saw blade to 1/8" and moved the saw fence with a stop block set to allow me to cut the remainig two shoulders of the tenons. The 3/16" round over bit was still in the router/so all four edges of the picketts got a pass over it. This resulted in some very nice shaped picketts I thought. I inserted the picketts in both bottom rails and dropped the top rails in place just to check everything for fit-amazing, no further work needed.
I'll insert a few pic's and get back to the blog latter. I've still got to get this baby ready!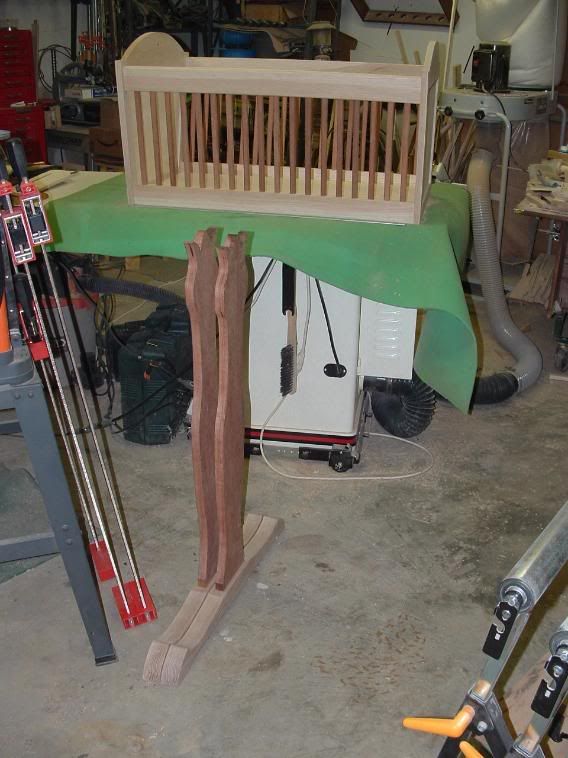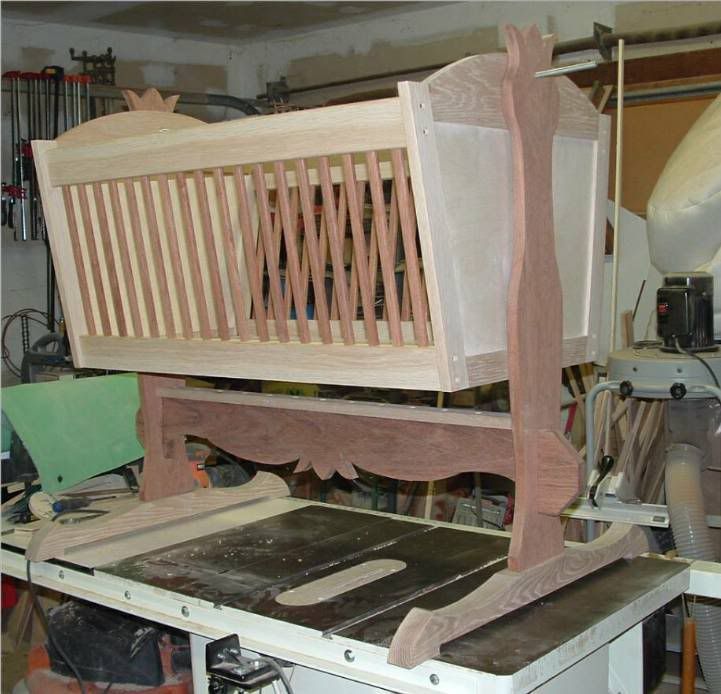 Cradle Prefinish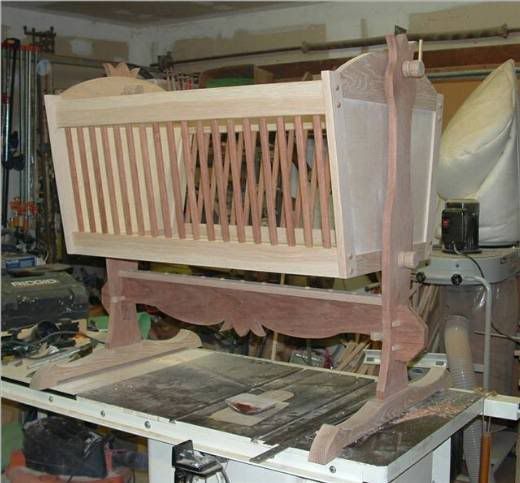 Finished Trestle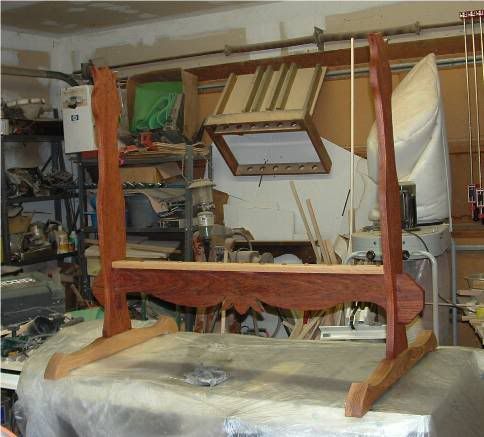 -- woodbutcher north carolina
---