It is amazing how something can brighten not only your day but also the future.
We had just got back from the clinic where I had the procedure wound from Tuesday's hospital visit to have an IV port installed, it had to be cleaned and redressed. As we came to the house entrance, Sandra noticed a plastic bag with something in it hanging on our rural mailbox. Sandra's first words were "Now what other tool did you order" but I told her I had not ordered anything (since she last put the block on spending) and I hadn't the faintest idea what it could be.
We brought it into the house, looked at the address label, but nothing indicated what the package was.
I opened the package and said to Sandra, hey it's full of snow !! What, she said, why don't you put your glasses on idiot, that's not snow, its white packing peanuts!
Under the first layer of peanuts I found and official looking document from non other than Karson (aka Karnack), which his private secretary had obviously enclosed and was signed by the "great one" himself.

I dug further and spotted "wood", but wow, there was an awesome hinged lid box there, absolutely beautiful, very classy and fit for a King.

I took the box out of the package and held it close to smell the wood, mmmmmm …….hey, I recognized that smell. So I opened the lid, and would you believe it, inside was a full baggie…..... wow WEEEEED. I yelled at Sandra to go to the country store and get me some cigarette papers, but as I opened the bag, I found it was filled with – sawdust!

The box is gorgeous, made from different exotic woods and waaaaaaaaaay beyond my WW skills (ha ha). I thought to myself, who the heck did Karson get to make this jewel – maybe one of his "toy boy" buddies?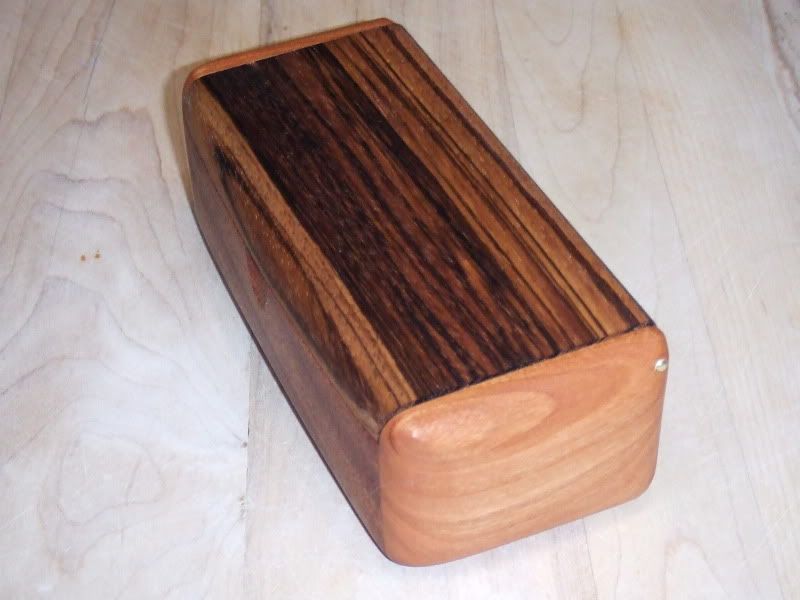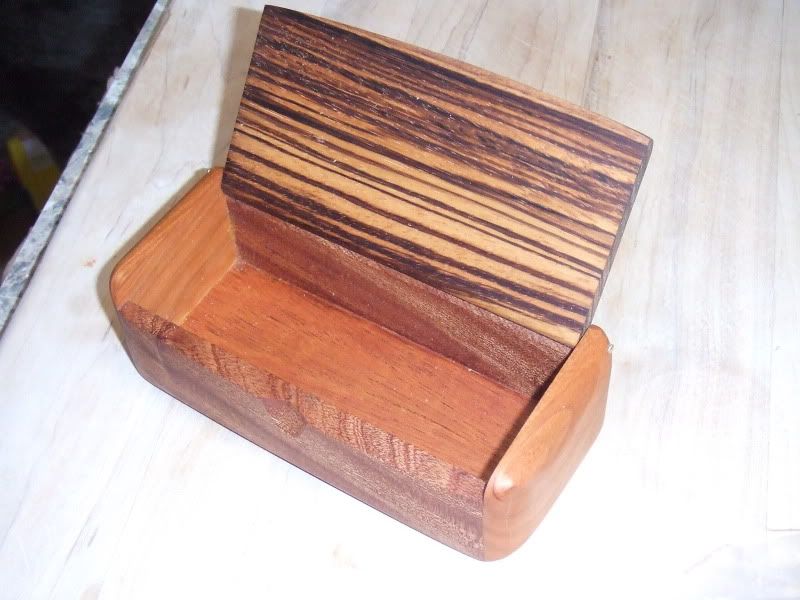 As it happens, I have an immediate use for this lidded box as I need somewhere to keep my Belly Button Cleaning and Maintenance Kit. Since the 3 surgeries last year in my abdomen area, I now have 3 "inny" belly buttons to service. As of last Tuesday after the IV port implant I now have 3 nipples on my chest. Life gets very exciting and I'm looking forward to what other duplicates and triplicates I may be endowed with in the future – maybe then a threesome will be a breeze.
OK, serious for a moment: Karson, I am absolutely stunned and thrilled by your thoughtfulness and kindness. I truly love this box and will treasure it always. Thank you, thank you, thank you for being who you are, a giant among men.
Sandra commented "What a nice man you found in the Coffee Lounge" – sigh.
Also a great "Thank you" to all LJs who have been my "Rock" during my illnesses and for putting up with my whacky humor. And to my Blockers, there is no truth in the rumor that I cut my fingers off. True I have some scratches and cuts, but my middle digit is totally unscathed and straight – imagine that!
PS. One of my cats, – Boo Boo appreciated the sawdust and made good use of it.
-- Roger-R, Republic of Texas. "Always look on the Bright Side of Life" - An eyeball to eyeball confrontation with a blind person is as complete waste of Time.
---