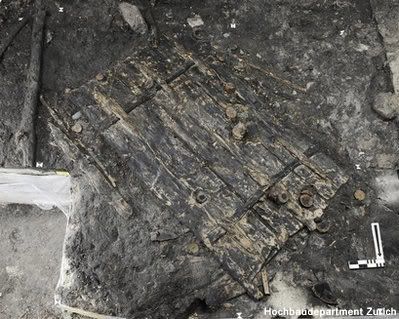 Archeologists have uncovered more artifacts after excavating around the door and under the door.

After carefully cleaning the front of the door a carved sign was found. The significance of these markings is not generally understood, but some believe it represents the number 6.
More interesting items were found under the door, which would have been the inside.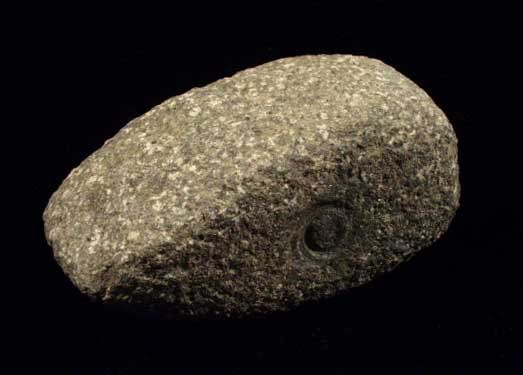 This could have been some sort of tool, or maybe a wedge to keep the door open in a required opening. Seeing how old this wedge shaped item is, it may be that P Kat's patent for his product design may be a copyright violation.

This sign was also found on the inside of the door

Archeologists and scientists are in the midst of trying to translate what the sign says, but as of now, have only been able to translate a small part which refers to warnings.
Also, some unique stone items with carved indentations have been found a short distance from the "inside" of the door.
Again none of the team seem to know what these were originally used for.
_
A heavy boulder was found under (inside of)_ the door, again the reason for this is still a puzzle.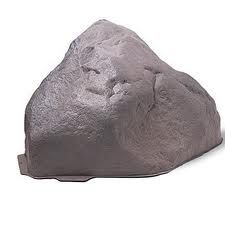 New findings are coming as the site area is fully excavated and there will be more discovered articles to see how our predecessors lived.
Note:
I actually discussed these findings with Charlie1958-1/2 and he, being from an ancient Cajun heritage, came to these conclusions.
1. The number is indeed a 6 and gave the door its designation.
2. The wedge was for holding the door open a certain distance.
3. The sign on the inside of the door was warning the person in the room about lengths of stay and emergencies.
4. The four unique stone items were an ancient game, probably the precursor for in-house entertainment.
5. The heavy boulder was an ancient form of contraception, as mentioned in the chronicles of Pope Prius XXVIII. You simply "park" the boulder on the inside of the door.
6. This site was obviously an old Howard Johnson's motel.
Charlie is still digging and looking for ancient shampoo and soap. We wish him luck
-- Roger-R, Republic of Texas. "Always look on the Bright Side of Life" - An eyeball to eyeball confrontation with a blind person is as complete waste of Time.
---