Work is quiet right now, no remodel jobs at the moment. I am learning how to turn knobs with an Oak screw chuck.
3" diameter face plate with 1-1/4" thick piece of white oak attached with 3 sheet metal screws. In the center is a 2-1/2" #10 wood screw, washer, and lock washer to make the screw chuck.


.


.
.
.
Attaching 1-3/8" maple square blank to screw chuck. Keeping the blank tight without snaping the steel #10 screw is a challenge.


.
.
.
Roughing blank to cylinder.


.


.
.
.
Turning curves with spindle gouge.


.
.
.
Sanding 100, 200, 320 grits


.
.
.
Coat of Shellac (dries in minutes)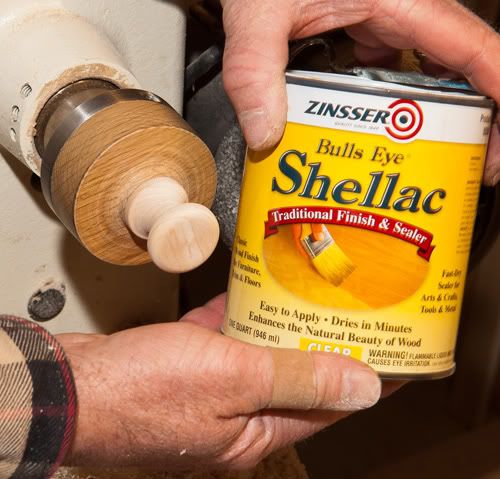 .
.
.
Wax applied with steel wool


.
.
.
Lathe spindle tap and finished knob attached to screw chuck.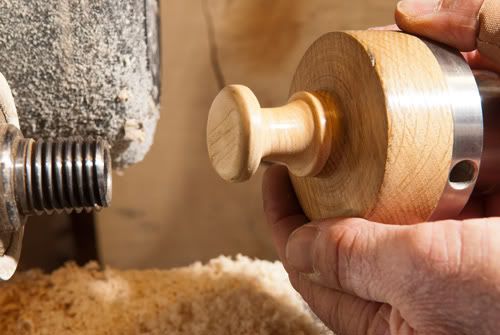 .
.
.
Knob on drawer.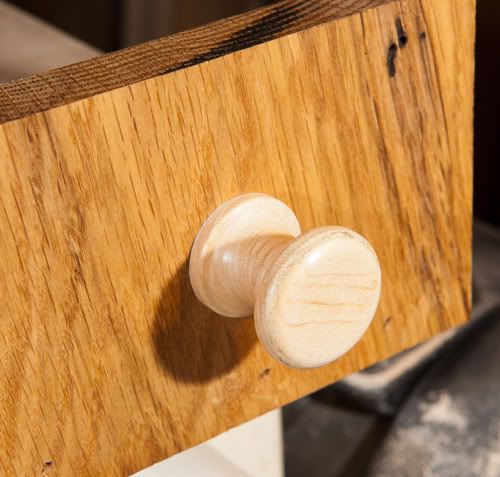 I really like the feel that the shellac and wax gives the knobs. I will be working on more exact dimensions for future knobs. I like using the same wood screw for the turning and the cabinet.
Turning knobs this way is a lot of fun!
Comments and suggestions alway appreciated.
-- JJ - Northern Illinois
---