I wanted a bandsaw to cut up wood into usable lumber.
Now I am starting really small, but have had some initial success with the GO555P.
So lets have a look.
Pile of cedar fencing I had to replace due to rot at the bases
I zipped them through the bandsaw and planed one side and one edge square, then resawed. Here is what I came up with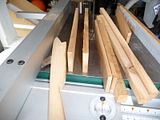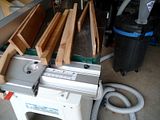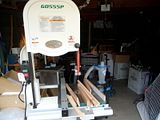 I had better success with dust control and I wore a 3M N95 mask….I didn't smell the cedar until I took off the mask. My home made cyclone did ok…still need a bigger system.
Then I did some finish planing to get the boards ready for box-work. The Lie-Nielsen planes etc are new and wonderful to work with. My bench hook helped a lot as well.
Larger pics at photobucket site if you are interested:
http://s92.photobucket.com/albums/l36/twokidsnosleep/bandsaw/
All in all it went much smoother than my first effort. I was ready to chuck out all that cedar fencing as I have been removing old rotted areas. Now I can recycle that wood and make it useful again.
Cheers, Scott
-- Scott "Some days you are the big dog, some days you are the fire hydrant"
---