Most of the floor is complete but there are areas I couldn't address until the wall was reconstructed. Once the wall sheathing was gone I found damage to the foundation wall.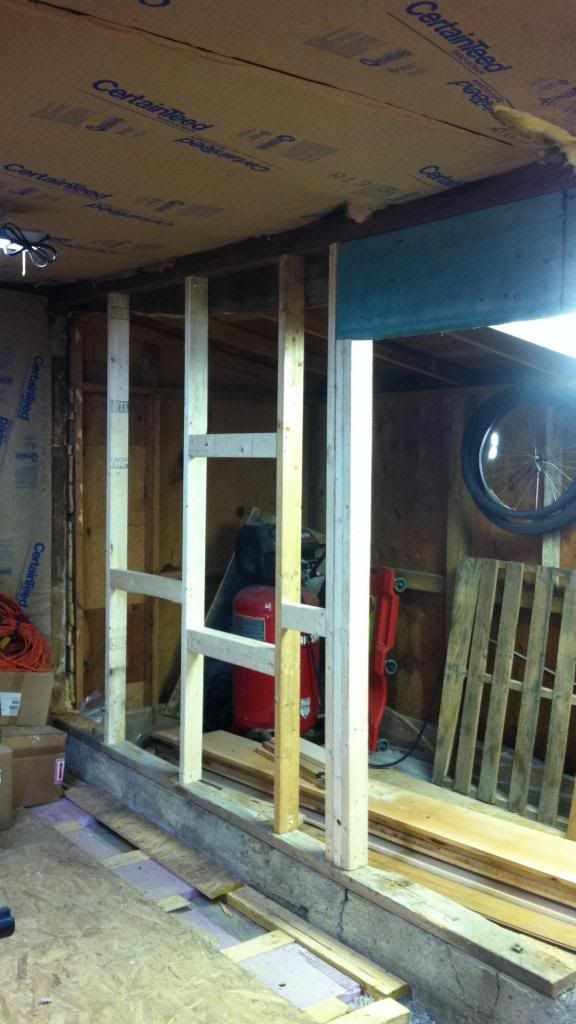 There were several cracks. I was debating how to address it but have decided to simply eliminate the cracked section and thus widening the existing opening. This actually will be an improvement as the area beyond wall was a bit difficult to access. This requires installing an appropriately sized LVL Beam. In fact, 2 LVL's sistered together. Wasn't counting on the ugly blue color. Guess I'll have to cover that up some how.
This is a great improvement over what was original. The brain child who placed the "Header" (if you can call it that) did such a poor job of planning. Seriously, there were (2) 2×6x10' sistered together, resting on a single jack stud on either side. The decision to remove this undersized beam was the perfect excuse to do it right.
This was a very painful exercise today as I was working by myself. A series of lolly gags allowed me to slowly jack the LVL's into place. The first one didn't go so well. It was under such tension, it literally sprang out and smacked me in the neck. However, the wall itself was quite secure by other lolly gags staggered along the length of the wall. Kind of shred my insulation but there will be a plastic vapor barrier added before the sheathing goes up. So it's all good.
Needless to say, those suckers are quite heavy (12'-7" x 11-7/8") and trying to press them into place was a challenge. Ultimately, I was able to install them then remove all lolly gags and everything fits much better before.
I also did a bit of experimenting and have decided to install my 12" sliding CMS into a cubby hole in the new wall. This in an effort to control the dust. I will build a dust shroud/chute that will funnel into the dust collector piping. A blast gate will be installed behind the wall with a push/pull mechanism to open/close the blast gate from the front side of the wall. I clamped the miter saw in place to work out my concept.
-- If You Haven't Got the Time to Do It Right, When Will You Find the Time to Do It Over?
---