Discussion Starter
·
#1
·
Moving the Hand Tools In...Installing A French Cleat System
So, I spent all summer building a barn, so I can move all the junk out of my garage, so I can buy a real cabinet saw, jointer, band saw, and drill press and have the room to leave them all reasonably set up so I don't have to do the Harlem Shuffle every time I want to use a tool…(whew!) And wouldn't you know it…the wife wants to park her car in the middle of my shop. More about that later…much later! So, I bought my
Unisaw
and built my out feed table
So now I need to move all my hand tools and stuff into the new shop area. I was thinking of putting up peg board but thats a pain in the ass and I never liked the way you have to put in the metal hooks and they always come out with the tool. I recently watched a video over at The Woodwhisperes' site where he talked about using French cleat systems to hang up all his stuff. So I figured I would give it a try. First I built a shelf and a short section of wall cleat for my table saw accessories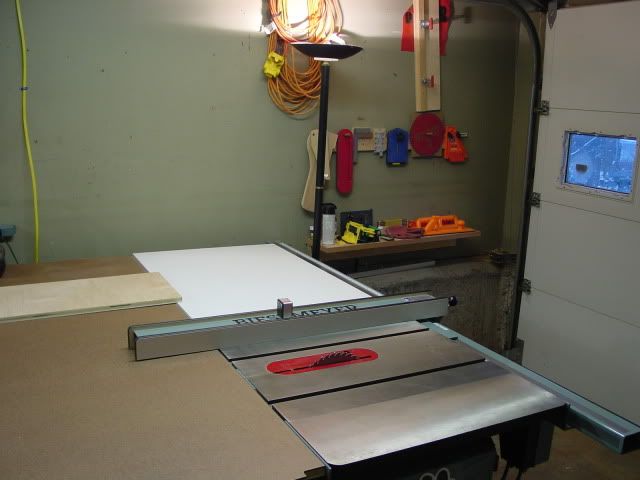 The shelf is just a piece of 3/4" ply with a Western red Cedar edging around it, and the French cleat on the back and on the wall.
The shelf is really strong and secure and it was so easy to hang it using the French cleat. I then made custom hangers for each item I wanted to hang from the upper section. Mostly just pieces of ply cut at the proper angle with either a dowel in it or a custom made piece of hardwood to support a tool like the machine square. My taper jig is laying on the concrete knee wall, but I will install a few dowels in the underside of the shelf support face to hang it from.
Here are some shots of the main wall area where most of my hand tools will live
looking from behind my saw…
The main wall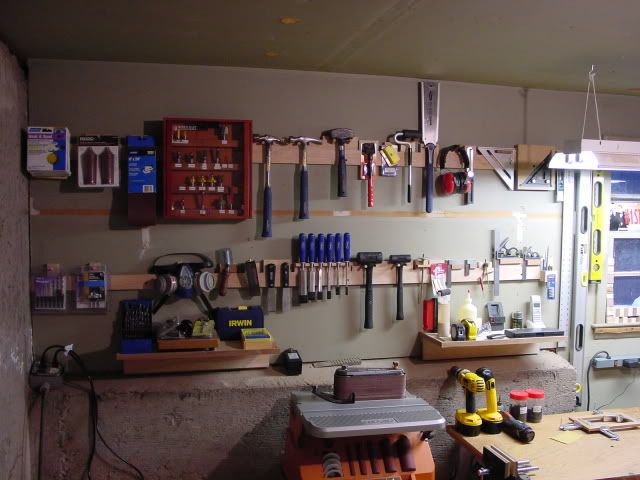 The wall sections of the cleats go up fast and then it's a little time consuming making all the little hangers for each tool you want to put on the cleat. Here are a few close up shots showing some of my hangers and holders I made..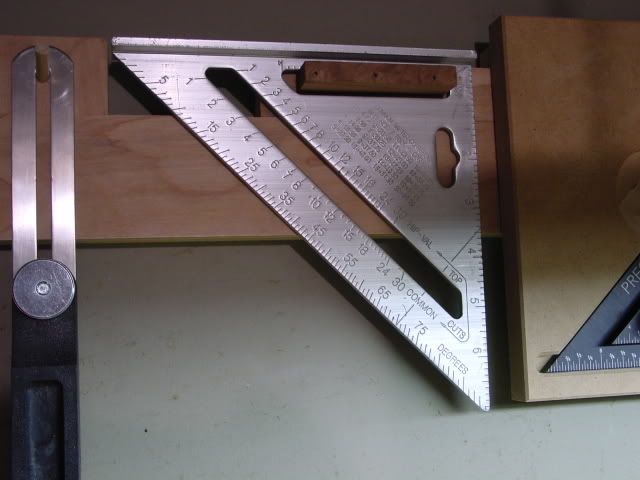 As you can see, it's really relatively simple. I found I ran out of room pretty quick, I will be putting up more on another wall. I just wanted to get enough up so I can get all my essential tools where i need them to be. They used to be all inside my basement and I would have to walk back and forth every time I needed something, then schlep them all back when I was done…very time consuming. So far it's like a godsend to need a mallet or a chisel and to be able to just take two steps to get it is so nice! Overall I love the whole French cleat thing. The greatest thing is it's so simple to move things around. I was shuffling things back and forth the whole time I was building it….and I will probably never stop! The shelves work really well and they are easy to make…just some ply screwed together in an "L" and a French cleat screwed to the back. Another great thing is I was able to use up a bunch of small hardwood scraps I had laying around that would probably have just gotten burned in the fire pit!
So after I had been working in the garage for a few days I noticed how low the light level was. Just a screw in bulb fixture in the ceiling and a lamp and one hanging 40 watt shop lite. I was having trouble seeing what I was doing at the table saw. So I went to Home Depot and picked up a two bulb T-8 35 watt fluorescent fixture for $18.00! You can screw it right to the ceiling, it has a tiny little ballast that guarantees it will start down to -10 degrees. A pack of two bulbs was around $4, and I bought a two dollar extension cord to wire a plug onto it..total cost 24.00!
Eventually I want to put up like at least four or five more and wire them into a sub panel I will be installing …but for now I might buy a couple more and just wire them all into the bulb socket….the T-8 fixtures don't draw allot of juice, very green! So now that my tools are in, the next thing to tackle will be getting rid of my door across two saw horses and build a real bench!