Discussion Starter
·
#1
·
headboard and footboard
Well,
A few month ago I learned that I'm going to be a dad. Like many others here, I decided to build a crib. I'm a little worried that I won't finish everything in time, but I'm doing the best I can. I just finished painting the room today, so hopefully I can work on the crib a bit tomorrow afternoon. I took a couple pictures of where I stand right now.
I am doing some dry fitting so the lacewood already has an amber shellac finish (floating panel) and the walnut will get a danish oil finish covered with sealcoat shellac, but it isn't on there yet. The original plan was to use birdseye maple instead of lacewood, but I just couldn't afford it. I'm still happy with the look (maybe happier, I hear birdseye can be a bear to work with and I'm behind schedule as is, so maybe its best to have one less thing to work on).
Anyway, here are the photos. Some with flash, some without. Hopefully you can see the pictures nicely.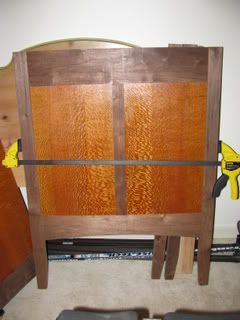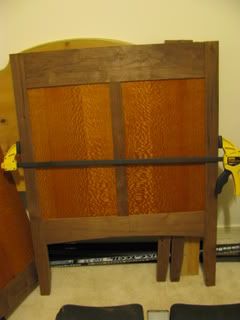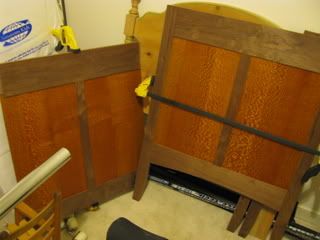 One thing I learned is that my bandsaw only has a 4 inch resaw capacity (riserblocks are not an option). I had to use a table saw and handsaw to resaw the lacewood in an effort to get bookmatched panels. Becuase of the blade thickness, the bookmatching is anything but perfect. I ended up with one reasonably good side, but the opposite side doesn't look bookmatched at all. It still looks interesting though. Just thought I'd share my learning experience on this aspect.