Discussion Starter
·
#1
·
The New Series Intro
Well, now, most of my work lately has been tool restoration and rehab. As such, it's not really woodworking, but not not woodworking either, since these are woodworking tools. Some of you have seen my Disston and my back saw. I'm pretty proud of both of those. But here's a tool you guys haven't had a chance to see yet.
This is a DE7. Sounds odd, but it's just a #7 jointer plane put out by Shapleigh's Hardware. I picked this up for $19.99 on ebay. I wanted a jointer plane pretty bad, and stumbled along on this one. I suspect that the only reason it was still there was because no one who saw it knew what DE7 was. I didn't either, but Google is my friend. So, without further ado, here's the plane!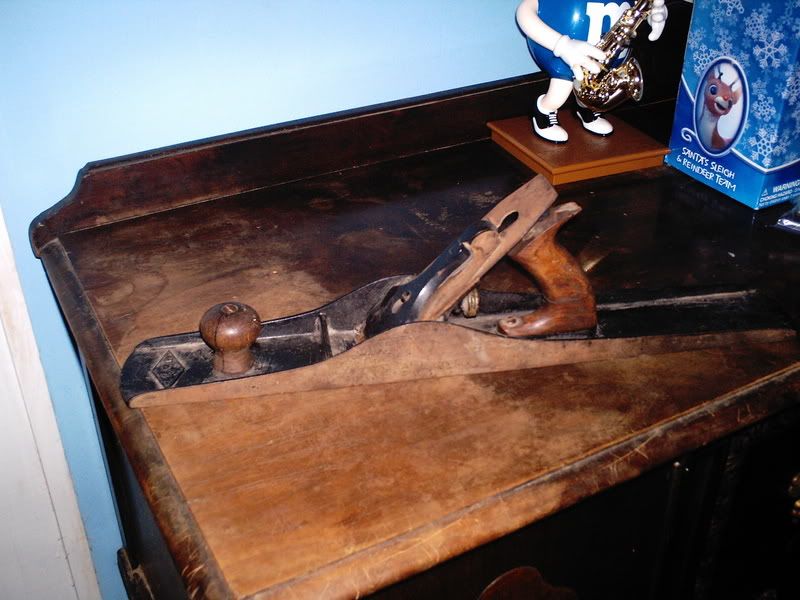 It's not that bad really, from the pic. Unfortunately, there was streaks of white paint on the sole and rust was
everywhere
. To top things off, someone had painted over much of the plane at some point in the past. The only things spared the paint was the blade, chip breaker, tote, and knob. Even the brass adjustment was painted over, though most of it had chipped off by the time I got it.
I picked out the rest of the paint I could get to on the brass adjustment knob, then broke the plane down. The frog was in pretty good shape, just needing some surface rust knocked off. The inside of the bed wasn't to bad either. The interior of the bed had been painted black, making it difficult to tell how the japanning was, so I quit messing around and got to work.
Some people use citric acid to clean planes. Others use electrolysis. Both methods seem to work fine. However, I took a page from my saw rehabs and used mineral spirits and sand paper. I hit the blade and chip breaker, which were covered in rust. On the chip breaker, I found an etching that read "L. Bailey's Patent Dec. 24, 1867". On the blade was the words "Stanley Rule & Level Co." I had suspected this was built by Stanley based on the lateral adjuster's design, and this just reinforced that belief. After those were clean, I got to work on the sole and sides. The paint came off surprisingly easy, and the rust was mostly surface rust. However, it's obvious from the pitting that this wasn't always the case. Then I sanded the nasty black paint off the cap iron. It wasn't original from what I could tell, so it needed to go. The layer of rust under the paint indicated someone just painted it to keep it from rusting worse. Looks pretty darn good now!
She's not the prettiest girl at the ball, those are probably Veritas or Lie Nielsens, but she'll definitely turn a head or two!
So…what do you think?