Discussion Starter
·
#1
·
The 60 1/2 Low Angle Block Plane...
So this past weekend I was actually able to get into the shop for a bit and do something fun! I recently picked up a Stanley #60 1/2 Low Angle Block Plane and I wanted to get it tuned up for some work.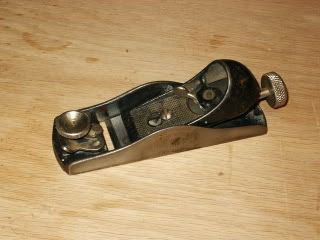 This block plane is going to be a great user plane, but it really isn't much in the way of being "collectible". It has the blue japanning, which I was a little hesitant about when making the purchase because I know most Stanley planes went through a quality decline when the japanning color changed from black. But a quick glance at
Patrick's Blood and Gore
indicated the block planes aren't really subject to that same guideline.
I picked it up for about $29. The iron is in great condition, so I don't need to replace it. It wasn't a "steal", but it was not a bad deal for a great user plane, either.
First order of business was to disassemble it and clean it up with some WD-40 and an old tooth brush.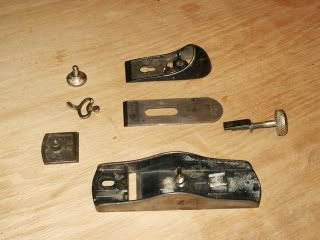 I'll spare you the photos of my cleaning tools. But basically I picked up one of those disposable food storage containers at Target for $3.00 and I use that when I'm cleaning. Keeps them all in one place and the mess doesn't get everywhere.
Once that was done, I assembled it again and took a look at the bottom and sides. Here is the bottom. No good pics of the sides turned out, but… A quick check with one of my smaller squares showed they were 90 degrees to the sole, so I was good to go there.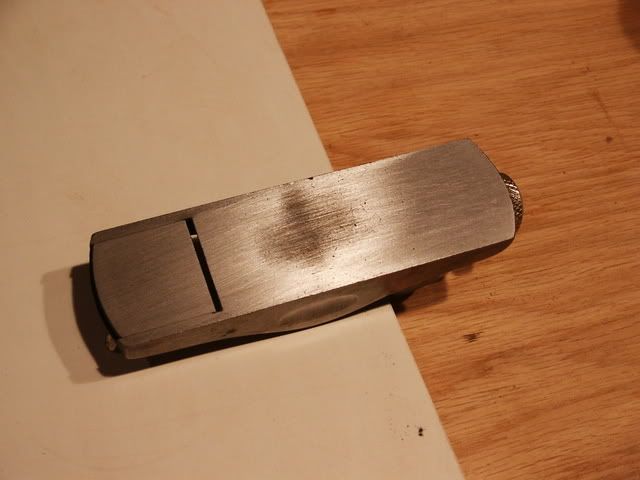 I use a sheet of melamine board and self-adhesive sand paper for my lapping. I started with 120 and moved up to 220 and then finished with wet/dry 400 (attached w/contact spray adhesive by 3M). End result:
I probably could have spent a little more time on it, but… I'm not looking for absolute perfection. I'm looking for a sole that is flat enough so that the plane works exactly how I want it to work. After it was lapped through the 400 grit sandpaper, I rubbed in a good coat of Renaissance Wax to keep the rust off and make the sole nice and slick.
I then popped out the blade and hit it with coarse, fine, and extra-fine diamond plates and then did a finished polished edge with my new 8000 grit king stone. I didn't take any pictures of the blade sharpening - this isn't a sharpening blog post!
I also did a minor tune-up on the lever cap, but I didn't photograph it. Basically, I removed a small portion of the japanning right where the edge of the cap pushes down on the blade after it is clamped. This will give it a better seat on the iron and make it a more effective lever cap.
I believe it is ready for testing… First, the easy test - a bit of pine.
As you can see, I was able to get full-length shavings from the pine. Honestly, that isn't terribly difficult. But it sure as heck makes you feel good when you do it!
Next I grabbed a block of mahogany and tried it on that…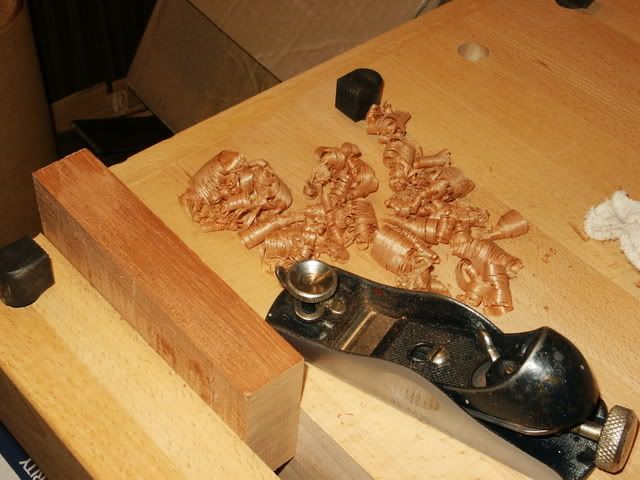 Being a rather poreous wood, these shavings didn't come out as solid, but they were all the entire length of the wood. I didn't spread any out on the bench for you, though; they weren't nearly as pretty as the pine curls.
So I guess that's about it! After pulling out the tools I use for this, it really only took me about an hour, all things said and done. The longest part of the process was sharpening the blade, but that's also one of the more important aspects of planing.
I'm very pleased with how it turned out. Looking forward to the next project!
The next plane I clean up is going to be my #220 block plane. I got a bit of a start on it at a tune-up class, but I was mostly focusing on my jack plane, so I didn't finish it. And the blade that came with it was pitted pretty badly, so I picked up a hock blade for it. The adjustment screw was cracked and the front knob was an American hardwood, instead of the rosewood used in older versions of the model, so I picked up a "parts" plane off of eBay for $9 that has a solid adjustment screw and a rosewood knob. Here is a teaser photo for ya…