Oshlun - SDS-0630 6" Stacked Dado Set (Rating: 5)
The Oshlun SDS-0630 6" Stacked Dado Blade Set is the first dado blades I have owned. The set fits on a 5/8" diameter arbor and features the following:
2 - outside blades, 1/8" by 30 tooth (5 groups of 6)
6 - full body 5 tooth chippers comprised of 4 ea 1/8", 1 ea 1/16" and 1 ea 3/32"
8 - brass shims in pairs ranging from .005" to .020" in 005" increments
The set will expand from 1/4" to 29/32"
All the teeth are C-4 micrograin carbide
Each blade and shim is marked for easy identification
Instruction sheet complete with a Table for stacking blades to the common sizes.
I purchased this set from Rockler for $69.99 (shipping included), also available at Amazon. After reading many reviews and comments, I opted for a 6" set of blades, mostly because my table saw is a 120v, 15 amp, 1.5 hp unit and it was conducive to my wallet.
The set comes packaged in a rather sturdy cardboard storage box with multiple layers of hi density foam between the blades. All the blades and shims were coated with a rust preventative substance which was easily removed with my handy can of acetone. The instruction sheet was clear and precise (something that this novice really needs) with step by step guidance for assembling the blades.
After installing the blades, ensuring all the teeth were oriented properly and double checking the security of the arbor nut, it was time for the big test. Plugging in the saw and stepping to the side, I turned on the power…....nothing flew off or came apart which was of great concern after reading of such instances on LJs. There was no noticeable vibration or wobble. Having assured myself that all was well, I proceeded to cut a few dadoes of varying depth in some scrap wood.
I used a 2×4, an old piece of 3/4" plywood and a piece of 3/4" pressboard (one day I'll learn its real name). All cuts came out with nice smooth bottoms and sides. The plywood did have some entrance/exit wounds, i.e. splintering, but I attribute that to the age of the wood and it really didn't have smooth edges. (As soon as I figure out Photobucket, pix of my cut attempts to follow.) The blades cut through the wood with little effort and no noticeable strain on the saw.
Practice cuts shown below
Particle Board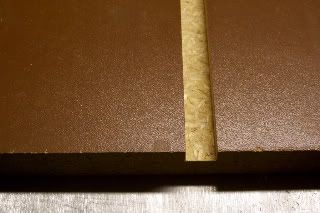 Old Plywood
Pine 2×4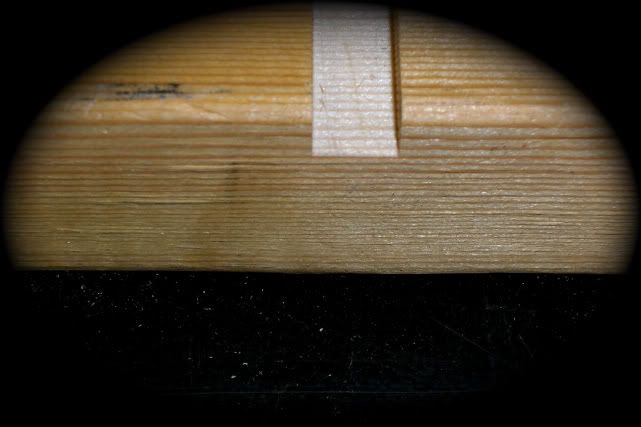 Two weeks ago. I didn't even know what a dado was and now I've managed to cut a few near perfect (if not perfect) dadoes the first time out. Amazing, considering I really am a novice. Based on the cost compared to other brands, quality of the product, the ease of installing and my ability to utilize it, I believe it is a worthy product and give it a 5 star rating.
As can be seen in the pix above, I still need to fabricate a dado insert, as none are available for my saw.
Looks like I'll be dadoing for many a year to come.
To Dado or Not to Dado? What a question!