Discussion Starter
·
#1
·
Thicknessing drum sander - shop made
I've had a fancy for a thicknessing sander but a
10-20 inch model
costs the equivalent of $1000 US over here and there's no way I can justify that sort of spending so I looked into making one of my own. There's no shortage of help to be had on the world-wide-web. The links I found useful include:
Dominic's Woodshop
Kawika Ukulele Sander
Ray Lanham Woodcentral
Roberto-Venn School of Luthiery
Mother earth
The Woodshop
Art Herrick
Luthiers' Friend
Nick's drum Sander
Moritz Designs
Shop Notes
With all that information, especially the very comprehensive how-to-do-it website by Dominic upon whose sander I largely based mine, I didn't even attempt a proper instructional blog, but here are a few pictures of the finished article.
Space is a serious problem for me, so I went for a unit I can stand on the folding workbench 'Workmate'. I'm not sure that was too good an idea now that I realise the weight of the finished job.
eBay provided most of the hardware (all new items) at the following cost:
- Motor £33.85
- Velcro £8.24
- Rod £12.75
- Bearings £15.06
- Belt £5.12
- Switch £17.93
- Total £92.95. What's that, about 185 US Dollars?
The wood & pulleys I had kicking around and the rise and fall arrangement was from bits in the junk box.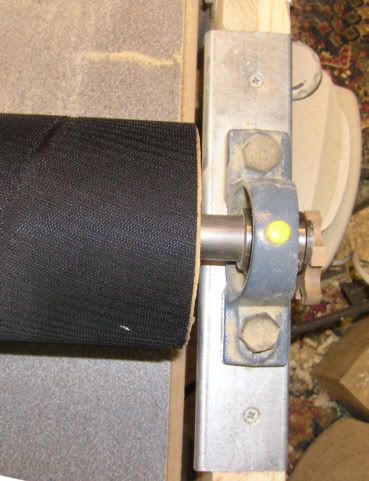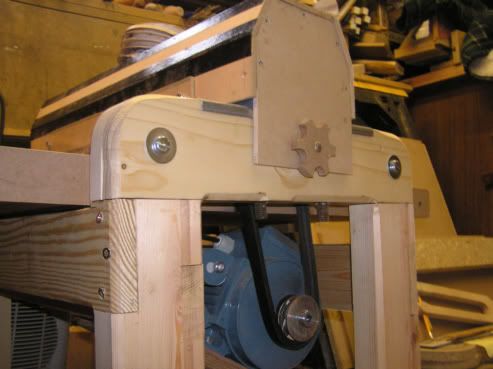 A work of art it isn't, but it seems to be pretty accurate, vibration-free and quiet.
I'll be happy to answer any questions of course.