Discussion Starter
·
#1
·
Researching, designing and first round of glue-ups
Over the past several weeks I've been looking for ways to maximize the space in my small shop and get more utility out of the items that dwell there. For the last few years my workbench has been a crude, stationary one that is built into the wall. One of the first things I built, it's too tall, too narrow and only three sides can be used. I decided to tear out this bench and build a replacement.
So the first phase was trying to make a list of all the things I needed this bench to be able to do. I mostly make tables and bookcases these days so I need a large assembly surface. I'm starting to dabble in hand cut dovetails so I wanted a wide shoulder vise so I could clamp all different size of planks. I wanted a space within it to mount my air compressor to keep it close to my assembly area but also out of the way. I also wanted a space to hide my shopvac but keep it close to where I do all my sanding. It needed to half a long, adjustable 'vise' like on the New-Fangled Workbench to hold entry way doors on edge. I wanted it to be very heavy so movement would be minimal if I was doing some very heavy hand planing or something. I wanted a few outlets for the sander and other corded tools that would be used on the bench. I thought it also might be nice to have a few drawers to store my chisels and other smallish tools. I wanted to base this on old french-style workbench so it would be fairly heavy. I work alone in my shop so I also wanted to incorporate some sort of retractable wheel system.
So after compiling my list of ideas I started researching available plans and commercial tables. I examined every bench I could find in books and magazines looking at things I liked and didn't like. I also picked up Christopher Schwarz' book, "Workbenches: From Design And Theory To Construction And Use" which I highly recommend if you are in the middle of a similar quest. There were a lot of suggestions I found there that I had not thought of that influenced my design ideas, like the large, wooden shoulder vise.
From there I moved on to materials. I really like Maple but I couldn't bring myself to use it for something that would end up getting stain and glue spilled on it. Also, I didn't want to spend hundreds on lumber so I decided to use Douglas Fir for the top, legs and stretchers and birch plywood for the storage cabinet components. Douglas Fir is much cheaper than maple, but still quite strong, though not as dent resistant. I grew up in a lumber town and my dad worked at a mill that harvested Doug Fir so there was a slight sentimental factor to the lumber choice.
Generally, when I design furniture from scratch I like to have the legs be very overbuilt, sort of a nordic/viking kind of feel so I decided to make the lengs 5 inches square by laminating 2×6's and then planing them down to final dimension. The stretchers are made of 2 2×4's laminated together which will be planed down to 2.5" by 3.25". For the top I want it 4" thick by 32" wide and 8 feet long. I'm going a little wider than a traditional bench for better support with the large projects I made.
I'm in the middle of fixing up my shop so space is more of an issue than normal so I decided to start with the legs. I started by cutting the 2×6's down to 4 feet in length. Longer than the final length, but when I run large, heavy items through my planer, which these would be after being laminated I knew I'd get some bad snipe on both ends so this allows me enough leftover to be able to just cut off the snipe and still have the required length.
Here is lumber surface planed and ready for glue up for the legs.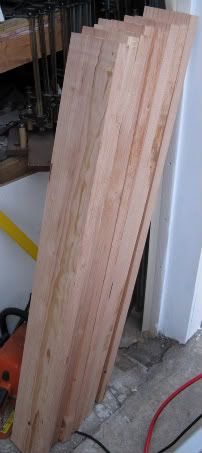 One of the legs in glue up
One of the stretchers in glue up.
The 4 legs and 1 of the stretchers after having glue squeeze out removed and run a couple times through the planer. Now they need to be jointed and then planed to final thickness. My leatherman is there for a scale comparison.
Time to buy more lumber. More to come soon….