Discussion Starter
·
#1
·
Table saw system upgrade - the end product
It's almost done. Actually, the saw end is usable. I haven't cut the place for the Russeau router insert yet.
The two major advantages are this is about 2" less tall than my other system which makes it far more easy for me to use and it is much easier to move.
The extension is two pieces of MDF laminated and a piece of white board glued to the top of that. In my earlier design I had drilled into the extension and fastened the top to the right side of the saw with 3 bolts. That was really a task as there was no real room and I had to route out an area for the nuts. This time I just butted it up to the saw and used the metal extension bars to hold it in place.
I use the Fazlock system from Woodworkers Supply (www.woodworker.com) to connect some of my tools to the dust collector. A little aside here - a few years ago I had purchased the Fazlock system. In switching between machines I dropped the hose a few times and the male fastener broke. Then, a year ago, Woodworker's Supply sent out an email touting the Fazlock system. I wrote them and told them that I was totally unsatisfied with the product. I got a call from the rep. We talked. He told me that they knew about the problem and had reformulated the plastic so that it was now stronger. But it was not as clear. They sent me replacements and they have worked just fine.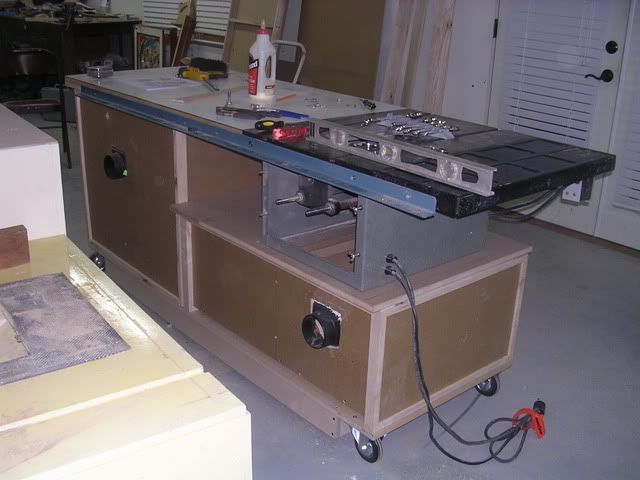 There is always something that is a little different between the plans as made and the plans as used. In my case it turned out that the saw would be 5/8" lower than the extension as it fit over the router cabinet. I planed down some scrap pieces that I put between the table base MDF and the saw cabinet so that the difference would be uniform over the cabinet rather than just around the saw. Also, when I went to put the motor back on the saw it would not fit. I had to saw out a small section on the back so the motor would fit. Neither were big adjustments.
You can also see in the first photo the clamp holding the fence in place. I got the replacement nylon pads from Jet on Wednesday and that problem was fixed that night, along with the blade and fence adjustment.
I had the option of pads .125 and .130 thick. I chose the thicker. I should have chosen the thinner.
The only other item of significance is that I moved the switch from the saw cabinet out to the fence.
Now I can finish go the Futon Sofa Bed.
Lee