Discussion Starter
·
#1
·
I love it when a plan comes together...
Awhile back Wood Magazine had an article on building a mobile outfeed table that would fit over your table saw. Since I need all the space in my garage I can get, I went ahead and built one that would fit over my table saw to give me some much needed work space and a handy outfeed table.
I thought this was pretty spiffy and a great use of space. As I always do I look at the latest project posts on Lumberjocks looking for inspiration for my next project. Whilst browsing I came across an entry by yzf600:
http://lumberjocks.com/projects/6885
I thought it was a keen idea, but unfortunately I already had the outfeed table covering my saw and just bookmarked it for future use. Then a couple days later it hit me: "Why not build a mobile cabinet that would fit the footprint of my outfeed table and allow me to store it underneath as well?"
After taking some measurements and a couple days playing with Sketchup I have the following design:
The cabinet fits my table saw and has an extension wing on the left side for larger sheet goods. It also has a built-in router insert and a downdraft table for sanding.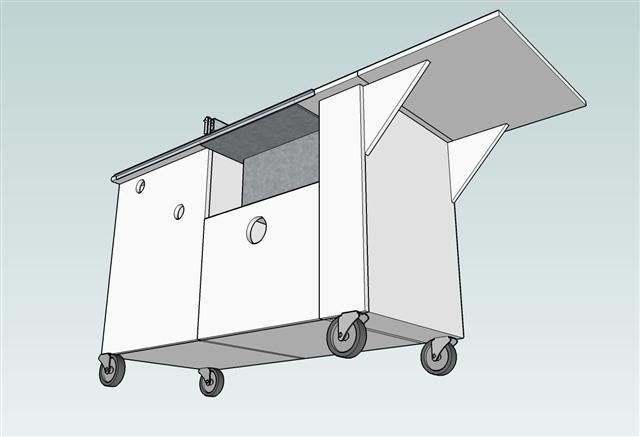 The back has the 4" dust port for the table saw that will mount to a box under the middle of the saw. It also has 2 1/2" dust ports for the router and sanding box. I haven't decided if I will tie them all together or just connect the vacuum to the needed port.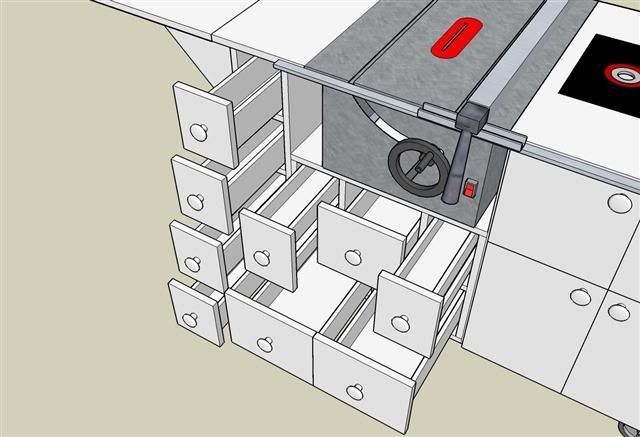 The left side of the cabinet is filled with drawers. The two drawers directly under the saw on each side have two shelves and the center drawer is short to allow for the dust collection box.
The right side of the cabinet is just open compartments covered by doors. The router goes in the upper left and I will build a box for the sanding table in the upper right. I will likely build some additional structures in the router cabinet to help funnel dust.
The cabinet will be largely plywood, and drawers will probably be made with 1/2" MDF. The top will be 3/4" MDF with a laminated top. The top itself will have holes drilled in it for the downdraft dust collection.
Now, I need to draw-up material requirements and cutting diagrams. Of course, I'll probably change a thing here and there as well. If anyone has any dust collection recommendations I'm open to more suggestions.
Thanks,
Greg