Discussion Starter
·
#1
·
The Initial Plans
OK, so last night I sat down and drew out the plans for my sister-in-laws bench. As her family will be giving her stuff for her hope chest starting this coming Christmas, I figure this is the priority for me. The father-in-law's flute case is secondary, because I don't even know if he'd use the blasted thing.
After several problems getting the scan to load up, here is what I have so far: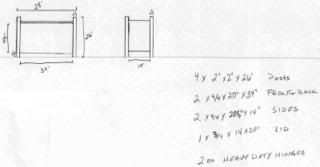 Sorry about the size. I had some difficulty there. I'm normally fairly tech savvy, but apparently not this time. Larger sized, and therefore more readable plans
here
.
The thing just doesn't quite look right to me, and I'm not sure why. Obviously, these are initial plans, and therefore subject to change, but still.
Part of the problem may be that it's kind of plain. I had toyed with the idea of making the legs curve up to the chest itself, have the outside edge continue the curve somewhat, then at the top of the chest body, have a more radical curve outward.
The problem with that is that my drawings sort of looked like ass. Not good at all. So, I came up with this idea. The legs would have all angles chamfered, and I've thought about using red oak for the legs and poplar for the body, to give it an interesting contrast and add interest to an otherwise plain piece.
Joints will be loose tenons, ala BeadLock probably. However, if I hit the lottery, it's going to be straight Domino
. The floor of the bench will be cedar planks with a 1/8" gap between them. They'll be held in place with dowels.
My goals for this piece is to build a well constructed bench that can last for years and years, and that can blend in most design schemes later in my SIL's life, as well using as little metal in the piece as humanly possible. Metal hinges, and that's about it.
However, something in my gut says I'm screwing up somewhere. Luckily, I'm here with all you lumber jocks who can critique my plan. Any help you folks can give would be greatly appreciated. Next payday's book will probably be on Sketchup, so I can figure out how the hell to use that program and have better pics and plans to share!
Sorry for the lack of an exploded view. That was just to far outside of what I really knew how to do.