Discussion Starter
·
#1
·
Woodworking show meeting
Today was the first day for the St.Louis area woodworking show in Collinsville, IL. I started the day by having lunch with my new found friend,
John Gray
. What an awesome guy. We had many things in common. John brought a friend, Steve, who was also a very nice guy. (and, they bought my lunch- how can that go wrong??... LOL)
I made my way over to the show. Norm Abram was there for a while, and there was a line that seemed to last forever. When the doors opened, I was the very first person at the booth, then found out that Norm was going to be 1-2 hours late. Unfortunately, I chose not to wait due to the classes that I wanted to take. So, I only got to see Norm from a distance later on, which satisfied me.
I took some hand plane and card scraper classes, and a separate cabinet making class. The hand plane classes were a nice review, but the card scraper classes I needed badly. I never can seem to get those doggone things to work well. Hopefully, this class will change that. John Gray and I took a few classes together. I met Bill-
bhack
- at the first class, too. He's a great guy. I really enjoyed his conversation.
So, about 5pm rolled around and a few other LumberJocks met up front (they all came out of the woodwork, I guess). I met Jason-
tooldad
,
Tooldad's apprentice
, Bill-
Printman
, John Gray, and Larry-
Mackmaniac
.
I really enjoyed the meet… we all shook hands and BS'ed. I quickly realized that these guys aren't hiding their personality behind anonymous screen icons and playnames, they are, in fact,
THE REAL DEAL
. What a great bunch of guys!
Here is a quick pic that we shot: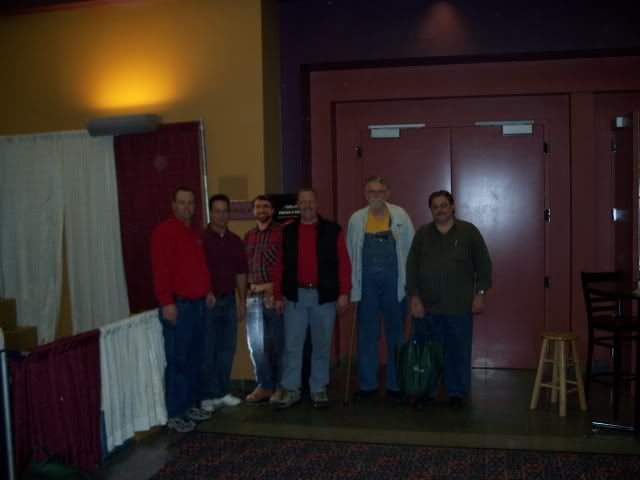 Jason- tooldad, Bill- printman, (the standup of Norm- Hey, he wasn't available, OK?.. LOL), Me, John Gray, and Larry-mackmaniac.
I'm going back tomorrow for more classes and more LumberJocks.
Steve