Discussion Starter
·
#1
·
from design to construction
A few years ago, I had the idea of building a small solar kiln. Well, life happened, and I didn't have the time or money to build one. Then two weeks ago, my neighbor had a red elm cut down that had been struck by lighning earlier in the spring. I figured that a beautiful elm tree would never just fall into my lap, so I had the tree removal service roll the 8', 30"+ main trunk into my front yard. After having it milled, I realized that I couldn't wait an entire year to work with such a beautiful wood, so now the solar kiln is finally becoming a reality.
Here's a rough plan I designed in sketchup. It was actually the first thing I designed using sketchup, and I must say that the program is excellent! The kiln deck measures 4×10. The rear wall is 5', and the front wall is 1', making the roof 45 degrees angled to the south. It will be just large enough to fit 200-250 bf of lumber, which is perfect for my small scale needs.
I used 11 7/8 lvl's and I joists for the deck, and 2×4's for the walls. The whole thing was sheated with 3/8 plywood( on sale for only 8$ a sheet!), then insulated and plastic wrapped. The inside was caulked and so far has a coat of alumized roof coating. My plan is to have a double layer of plastic sheathing 3 1/2" apart for the top for now, and in the spring will use clear corrugated fiberglass. The top, which is not yet finished, will be on hinges in back, and lift up for access.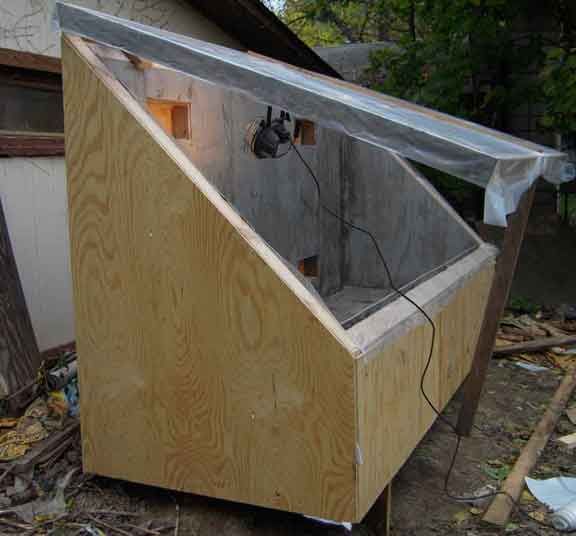 Hopefully, I will have this kiln completed and ready for a charge of red elm by the weekend.