Discussion Starter
·
#1
·
Making Cabinet Doors With The Follow Me Tool
Hello everyone! Since I discovered Sketchup several years ago (I have been Skecthing since release 3..pre Google) I have spent a great deal of time watching tutorials and prowling through the forums trying to learn as much about this great software as I can! Since I have been a member here I have seen some great blogs by other members about Sketchup and how to use it, so I thought I would throw my hat in the ring! I see allot of people saying I wish I could use Sketchup better, or I gotta learn Sketchup. I personally think it is one of the best tools you can use for designing woodworking and furniture projects. So I want to write this blog to try and get some of you interested in learning how to use this great tool, and to share some of the tricks and knowledge I have picked up along the way to make everyone love this software as much as I do! To me this is as important as any tool I have in my shop!
I found this little trick in the SU forum I wish I could remember who posted the original idea..I even went back and searched for it so I could give the guy credit, but I couldn't find the thread…so let me say that I DID NOT THINK OF THIS..although I wish I had 'cause it's pretty neat!. But anyways this is the coolest way to make cabinet doors I have seen yet. Oh sure, you could draw all your parts and put them together but that could be time consuming and not as much fun as this method! So here goes..I wish the pics could be larger, but we are limited to 640×480, but I think you can get the idea of what I am trying to do here. Lets start off with a simple flat panel door
First. draw a rectangle the dimensions being that of the cabinet door you would like to make. This door is 12"x30"
Next, draw the profile of the door parts 2D as if cut in half. This door has 2" wide stiles and rails 1" thick, and a 1/4" flat panel center thats 8" wide. Don't bother with detailing the groves or joinery it wont be seen. But if you want any profiles or fancy edges on the rails and styles you would want to have that included.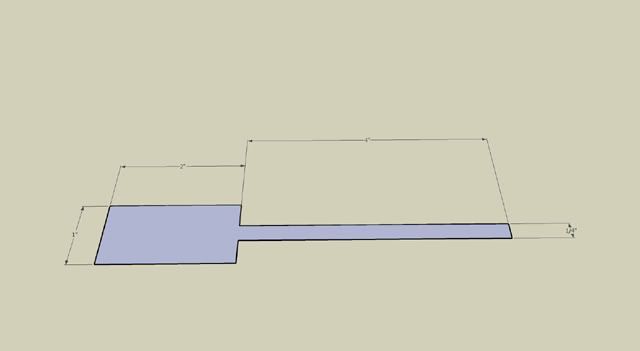 Ok, next select all the geometry associated with the door profile (an easy way to select all touching geometry is to triple click) then you want to rotate your door profile so its standing perfectly vertical. You do this with the rotate tool
Ok, now here comes the fun part..while all the geometry is still selected grab the bottom corner of the profile with the move tool and move it to the center of the left hand vertical line in your size rectangle.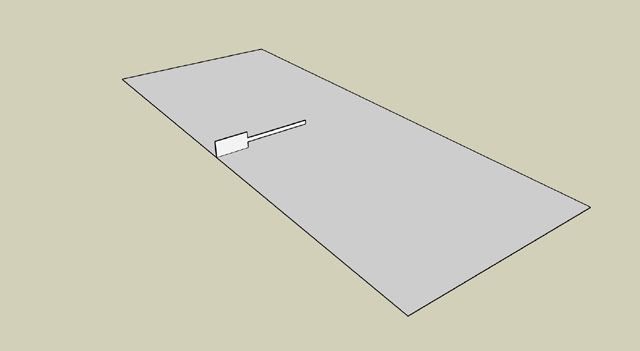 Now, select the follow me tool, and click on the face of your door profile. Then, you start to move it around the door size outline following the edges. Sometimes the tool wigs out a little and you will get a weird looking result…don't worry just click undo and try again. It takes a little practice to get used to the follow me tool.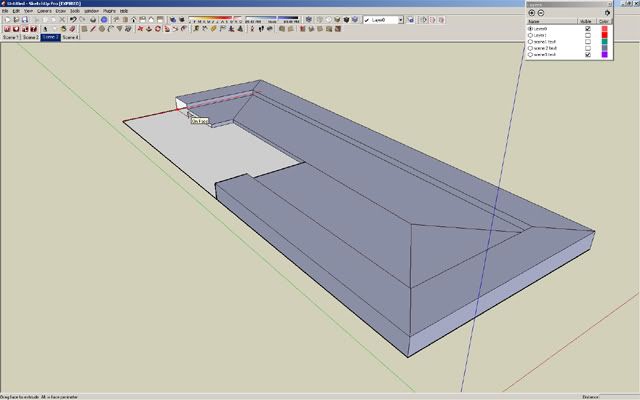 Finish by clicking back where you started and if you did it correctly, you should have something that looks like this…
Then get out your trusty eraser, and erase the uneeded lines and you should have this..
I know some of you guys are saying "wheres the rail and stile ends"...I hear ya man..just get out the line tool and draw them in and presto..instant flat panel cabinet door!
You could copy that one door as many times as you needed and then use the scale tool to resize it for the other cabinets, but I find if your not careful with the scale tool it changes other dimensions that you dont want changed. I think it would be just as easy to use this method to create one of each door size then copy them as needded.
So now your saying "works ok for a plain flat panel but what about a raised panel" Well lets try one..
Same size rectangle as the one we used before…
The door profile is the same only I have a 2" bevel from the center of half the panel in to the frame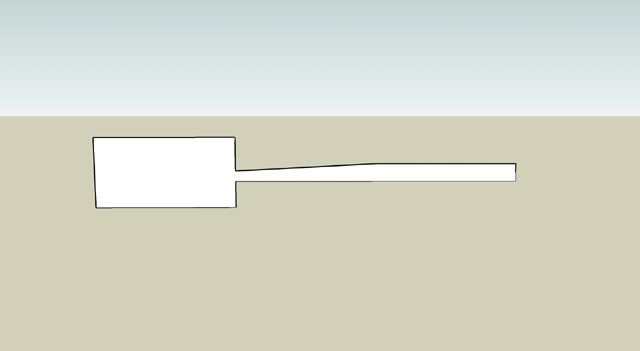 Move that onto your size rectangle, snapping the lower corner to the center mark..
Then, use the follow me tool just like the last door..
If all the planets were in alignment (and your follow me tool was also) you should have a result that looks like this..
Once again we turn to Mr. eraser, carefully remove the uneeded lines (not your bevels), and draw in you rail and stile ends and just like that, before the cat has a chance to choke up a hairball you have a raised panel cabinet door!
Pretty neat huh? I thought it was when I read the original thread. You can get as fancy or as plain as you want with rail and stile edges ( coves, beads, round overs), and raised panel design just draw it in the door profile. If you rotate the door around you will notice there is no bottom on it, but most of the time if your doing a cabinet or kitchen model your only going to see the front anyways. Now go crank up your copy of Sketchup and make some doors!