Discussion Starter
·
#1
·
Shopsmith V Drum Sander - Part Construction
Greeting All,
I've been doing a bit of Mad Scientist routine in the workshop again. As a few of you may recall, I've been asking about V Drum sanders for a while now, convinced I could make one out of my Shopsmith with a minimum of effort.
Picture One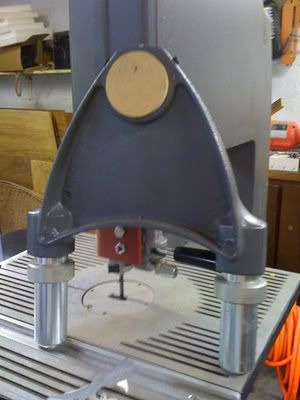 This is the tailstock with a mdf block in it. I ended up using a turned piece that projected out of the tailstock toward the about and inch.
Picture Two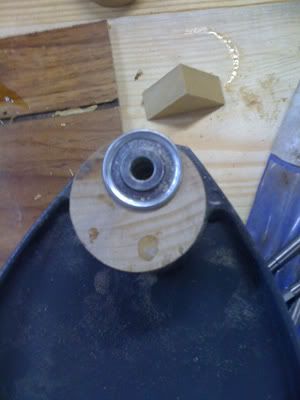 Here is the flat bearing I am using with a 3/8" center. I used a 3/8" bit to bore through, then a 1 1/8" forstner bit to seat the bearing.
Picture Three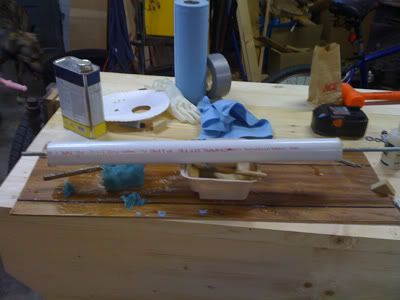 This is my drum. 1 1/4" pvc with a 3/8" threaded rod center. I drilled out 24(I think) some odd mdf plugs that are epoxied to the rod. Believe it or not, I used some leftover fiberglass to put the plugged rod in the pvc tube. It did not heat up or melt as some folks feared it would.
Pictures Four and Five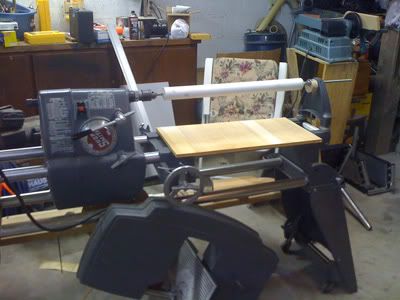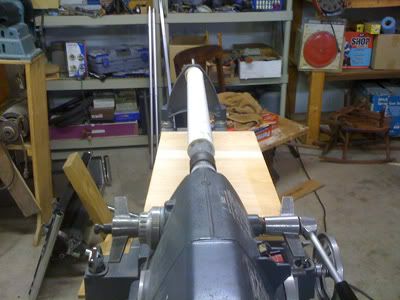 The drum attached to the Shopsmith. That board under it is what I used to try and measure the height of the box to go around the drum.
I messed up and in two places. I was going to use the gray housing of the SS to seat the box on around the drum. I measures too short on the length. I quesstimated using the drum at the key, not the length between the powerhead housing and the tailstock housing. Oops.
I also forgot the account for the extra "height" that would occur when I added the velcro and the hook & loop sandpaper. Fortunately I am still at a point I can make adjustments.
Picture Six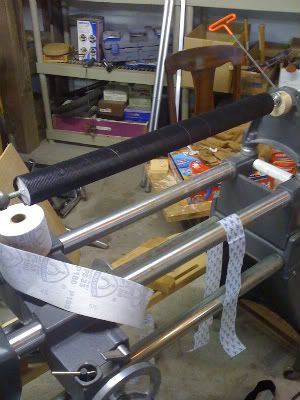 The velcro attached to the drum. That's the roll of sandpaper waiting to go on.
Well, I hope you folks find this interesting. I'll add on the box and HOPEFULLY an action shot of the sander in action.
Milo