Discussion Starter
·
#1
·
Making room for the bench...
So as my work (and obsession) has turned more towards hand tools, and my recent reading of Chris Schwarz's workbench book, I decided to make some shop adjustments to make room for a nice Roubo bench in my near future. I you look at my shop phots you will see a long L shaped counter top with a corner desk. While this has provide a lot of work space, the rooke mistake was in my using really wet construction grade lumber that proceeded to warp and twist out of control over the seasons. Secondly, so much fixed counter space really is constrictive to shop work flow. So the first step was to move my drill press to an independent rolling cart. You can find this in my projects page. That freed up counterspace to be eventually eliminated. Next I cut out the corner desk and removed the right angle desk top.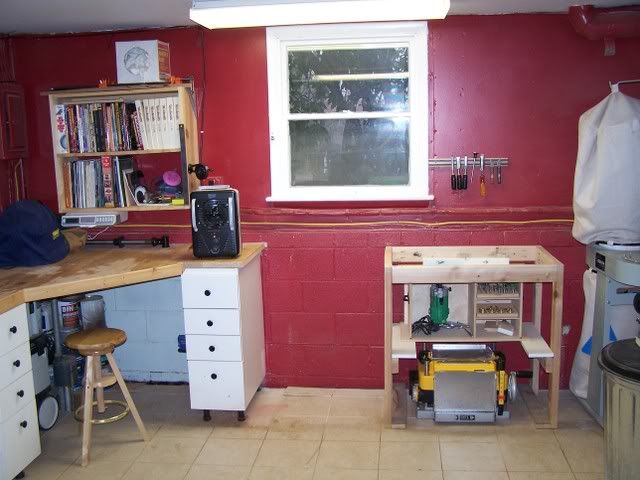 You can see that I painted the walls after the counters were installed in this second shot. Next I removed the counter itself. I plan to reuse this lumber to make a sharpening station at some point in the future. This is how I built the drill press cart as well.
Here I have laid some 2×4s across the cabinets as ribs for support as well as an attachment point from base cabinet to the top which will be formica laminate. The space calls for just over 11 feet so I wanted to use this as an opportunity to practice cutting half lap joinery by hand.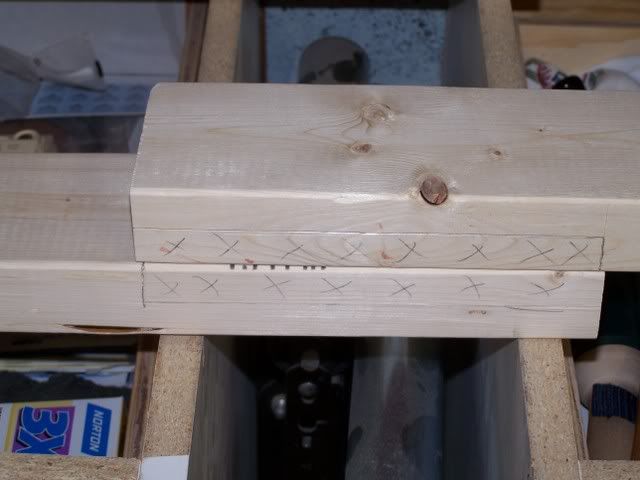 Here I marked the cut lines using a marking gauge and you can see me chiseling out the knife wall before making the saw cut.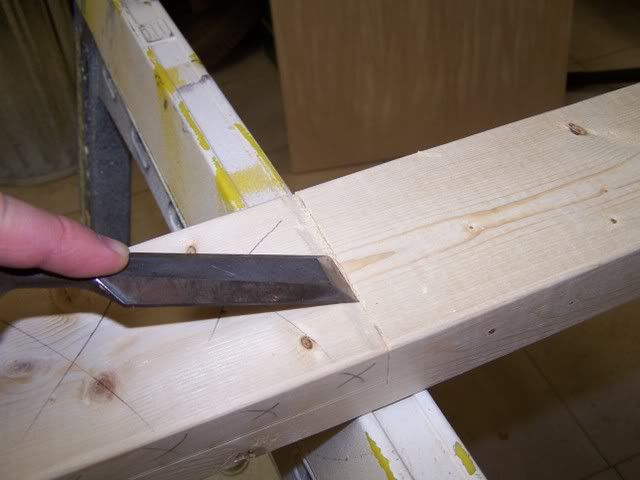 From there I made more cuts to practice my technique and to make chiseling out the waste easier. Sorry I got a little involved at this stage and forgot to take pictures. There is a great illustration of this on The Lost Art Press blog that follows the same steps I used from chiseling to using a router plane to clean up the cheeks. One the ribs were glued, I cut dados using the same technique to correspond to all the base cabinet sides. I then screwed the ribs down to the base.
The counter top is two sheets of 3/4 MDF glued and screwed together with laminate top and a red oak edge band secured with biscuits. I then flushed the edge using an edge trimming plane. Here is the final result.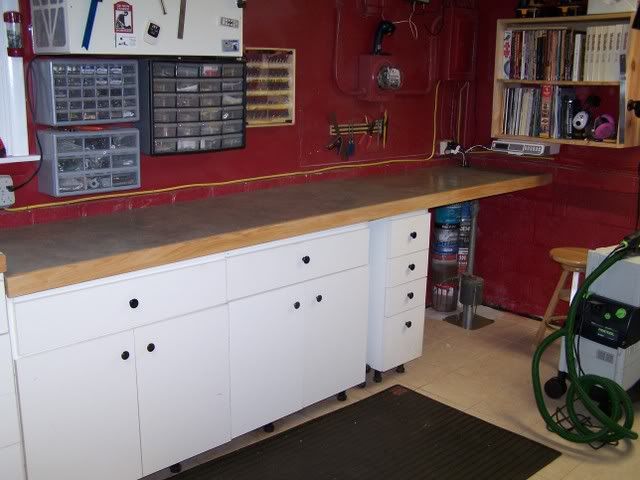 This new countertop is flat, level, and nice and slick. Glue comes right off it as does finish. I am really happy with it and I know it will serve me well for some time to come. Now I have a lot more free floor space and still a lot of counter top. Next comes the bench build to take up that floor space!