Discussion Starter
·
#1
·
Milling The Wood & The First Frame
Well I'm still at it, woodworking that is. Although I find myself building more utilitarian type projects lately then anything else. Like this one. I have two 4' x 20' raised gardens and keeping the varmints out has always been a challenge. Short of using buckshot which is frowned upon within city limits. So years past I've been getting a 50' roll of chicken wire and wrapping it around each raised garden. It works for the most part but once installed makes it a bit difficult to work in the garden and the chicken wire is not as easy and neat to install as one would think. It doesn't conform to going around square corners well and a lot of stakes have to be used to keep it straight and flush at the bottom with the top of the raised garden.
So for the past few years I've been thinking about building some frames to go around each raised garden and putting the screen/fencing material on each frame. But building a frame that's let's say is 2' x 10' that is sturdy and can withstand the weather and not fall apart because I don't want to be building new ones each year is a challenge.
Well I finally decided to give it a go. So I went and got some 2x Red Cedar and ripped it all to size. The rails and stiles of the frame are 1-1/2" x 1-1/2" and the X brace in the middle is 3/4" x 1-1/2". I was kind of surprised at the quality of the Red Cedar I picked up being 2x stock, it was relatively straight. I jointed one edge of each board before ripping them and only had to make a few passes to flatten the edge.
All the joints are lap joints and I used Titebond III with a single 12×1-1/4" stainless steel screw in each joint. I'm hoping this glue will withstand Wisconsin weather. I've not had good luck in the past with things relying on glue in the outdoors regardless of which glue I've tried and I've tried them all.
One of the issues was to cut the dadoes for the lap joints for the X brace in the right places in the top and bottom rails so that when assembled the X brace boards would line up. Using a bit of trigonometry I calculated off of center where the dadoes should be then set up stops and cut two boards and prayed. I did a dry fit with those two top and bottom rails and low and behold it looked like I got things right.
The wood all ripped, almost enough to make the 8 2' x 10' frames, then have to make 4 2' x 4' frames on top of that.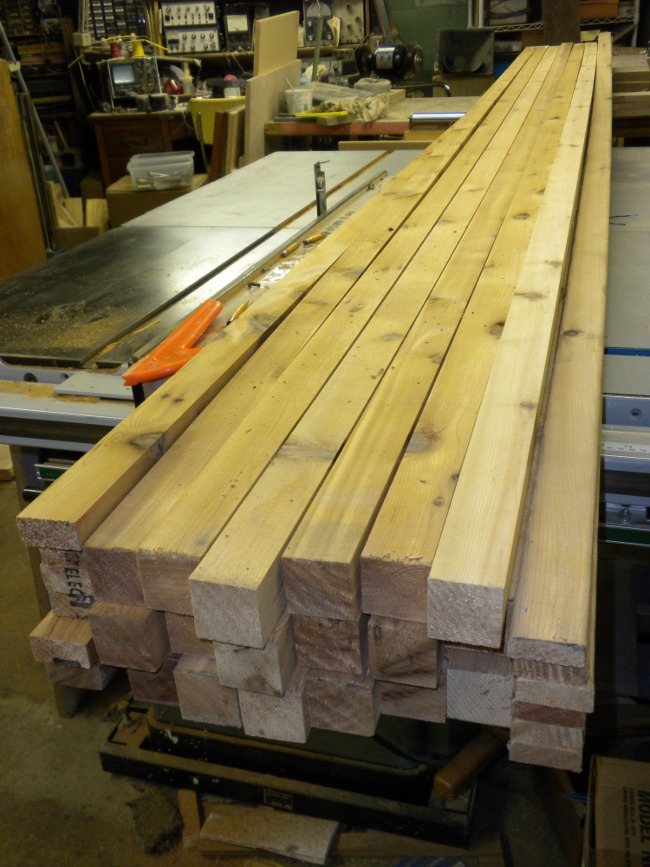 All the lap joints and dadoes cut. A prime example where a RAS is the right tool for the job. Made the milling fast and easy once set up. Can't think of a better nor faster way to do it. Anyone want to try putting lap joints on the ends of 10' boards on a table saw? Or the 45 degree dadoes for the X brace on a TS? Not I. Maybe a router with a jig but I'd still be willing to bet the RAS would be faster and easier taking into account building the jig for the router.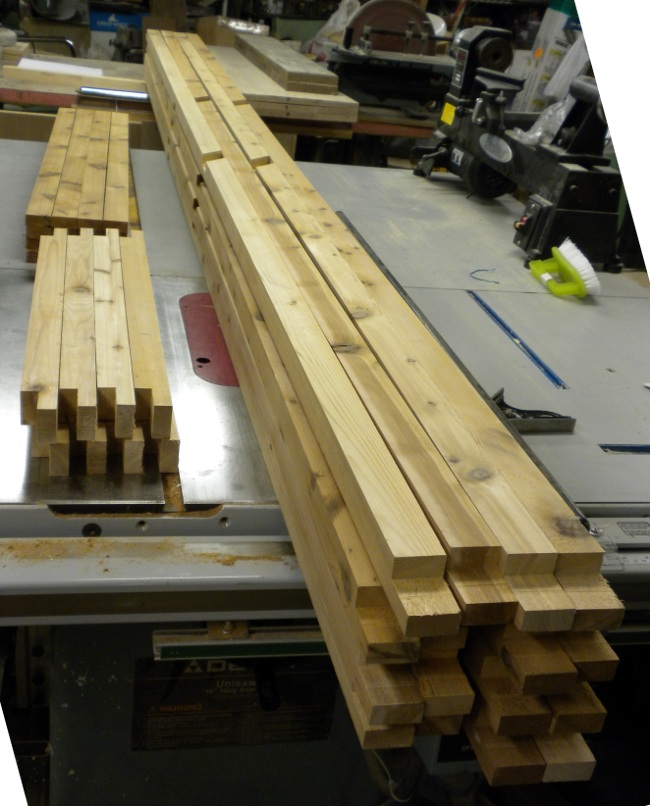 And one frame glued up.