Discussion Starter
·
#1
·
How it began
I tend to make strange things. Often my inspiration comes from allowing my mind to wander freely, going whereever it seems to want to go. Part of this process is to allow, or even encourage, free association with dis-similar things. So it was when Prometheus Transformed began.
In the beginning I was having an on-line conversation with a woman who grew up when the Transformer toys were getting started. She's a fanatic about them. Anyway, as we talked I began to consider what I would do if I made a transformer of some type. What would it become? How would it transform?
There didn't seem to be much point to having it change from a vehicle into a robot, since there's not much you can do with a wooden vehicle, at least not inside the house. So, my mind went elsewhere, and locked up on the idea of a Wooten desk. Strange, but…true.
So, imagine a purple robot standing in your house, over six feet tall, dominating the room. Then imagine that you could transform him into a computer desk, complete with all the nooks, drawers, and cubbyholes that make Wooten desks so amazing. That's what this will do. It's taken a whole mess of drawing to design the transformation elements, and I'm not done with all of them yet. However, the bottom third…the legs…are nearly complete so I can include a couple pictures.
The rules: It's all wood, with very few exceptions. It's all natural colors…no stain, no paint. The only exception is some ebonized white ash…only because good ebony just plain costs too much. It must appear to be a "normal" robot when in that mode…there should be no visual hint it does something else.
It would take hundreds of pictures to explain the whole thing, and at some point I will post a youtube video of the finished piece being transformed so you can see all the magic happen. For now, still frames will have to do.
This first picture is the leg assembly, approaching completion. The two legs had been created, and were being assembled together when this was taken. The woods are purpleheart, yellowheart, and a mix of others including padauk, white maple, beech, satine, hickory, and even some poplar.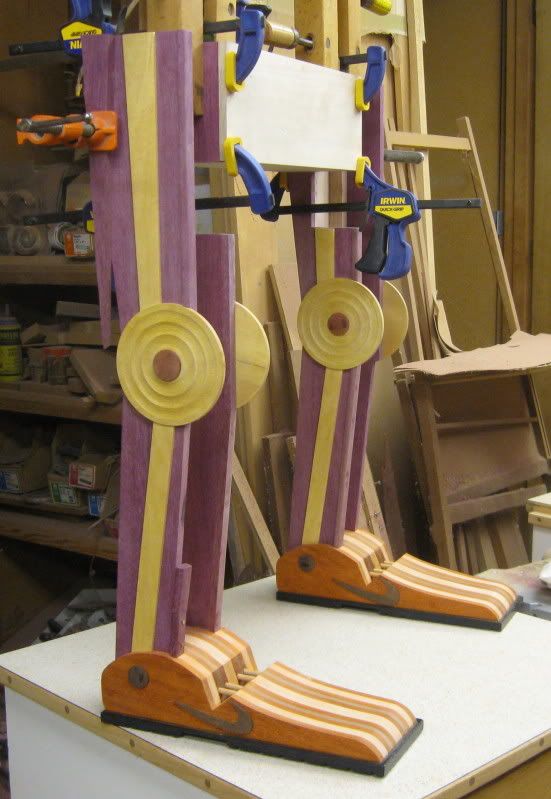 v
Now, in keeping with my very odd sense of humor, I felt free to wander far from the original Transformers, so my robot, being properly dressed, wears Nikes.
I'm currently working on the carcass for the desk, or the abdomen. There are some more pictures, showing a bit of the leg transformation, and when i get a minute, I'll post them and explain how they work.
wa