Preparation for my First Commercial Show as a Full time Artisan (Part 1)
Hello fellow wood butchers! I went full-time in the beginning of December 2011 and am very excited to begin the next chapter in my life! For those that don't know, I build one-of-a-kind commissioned custom fishing nets. My custom fly fishing nets can be used for many types of fishing though they are typically sought by and for fly fishers.
Some of my nets can be seen
here.
and here's one in action. It's Figured Walnut & Bird's Eye Maple with a rubber net.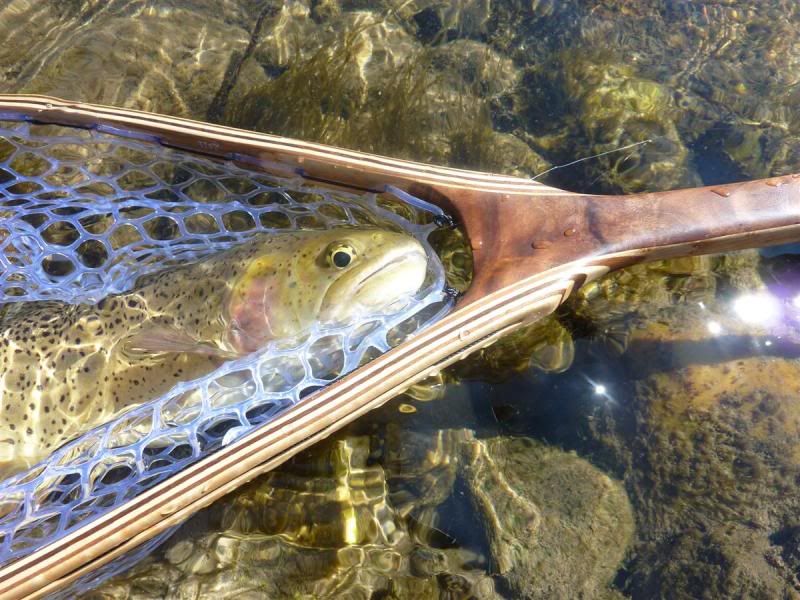 This is a multi-part story on preparing for my first show.
I first talked to my wife about exhibiting at one of my favorite shows, The Fly Fishing Show, which is held in various cities spread around the nation each spring. After consulting with some of my fishing colleagues, I decided that the Fly Fishing Show Pleasanton, Ca. show was going to give me the biggest bang for my buck as they get the most foot traffic on the West Coast.

I happen to live in So. California, so I will be in for a bit of a road trip up to the san Francisco Bay Area. Luckily, I have cousins with a spare apartment who live just 30 miles away.
I was next a bit floored by the cost, $975.00, for a 10×10 booth. Both my wife and I agreed that we'd need to make the investment. So I contacted the show and ordered up a spot. What?! I have to order electricity now?! and tables, and chairs and TRASH CANS?! Oh boy…...
I contacted a few friends who gave me some really good advice on shows. Some of their gems were: Isolate, Illuminate, and Elevate! Make the booth rich, warm and welcoming. Build value in your product,( i.g.Designed to be handed down for generations. Each one is one of a kind. Each owner gets exactly what they want.etc.) If you build value they will help you sell value later when they are bragging to their fishing buddies. Assume that people will remember three things 1) what they saw that they liked 2) your story that makes it interesting to them 3) where they saw it.
So, now I am in the midst of building the booth display that I designed. I'll Post up pics when that's done. I can tell you that I designed it out of rough sawn cedar for the old west type look. I thought it fitting as I am
Sierra Nets
,
the finest Nets in the West!
Until next time,
Greg