Discussion Starter
·
#1
·
What Is It?
The Post and Panel System started with the desire to let my son build cool castles out of blocks. But I didn't like that regular blocks fall down so easily. A little kid is going to have a hard time protecting his castle from barbarians, pets and siblings if the only things he can use are gravity and friction! So, unlike regular old blocks, the posts and panels in this set lock together.
In minutes, without any instructions, your kids (or, be honest, you) can create complex and sturdy houses, castles, or farms with courtyards, towers, walls, windows and even swinging doors. If anyone complains your castle is in the way-just move it! It all holds together. And the whole set is scaled to work well with numerous dolls and animals available from wooden toy sellers.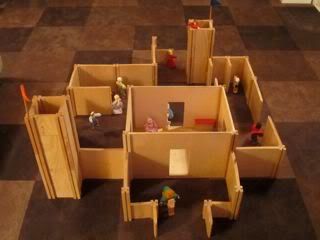 A sample castle built from a full set of posts and panels.
To jump ahead and see this whole castle built piece-by-piece,
click here
, and scroll to the bottom.
To see a bunch of non-castle things than can be built with this same set,
click here
.
How Does Assembly Work?
http://static.photobucket.com/player.swf
What Parts Does it Use?
The set is made up of the following basic parts: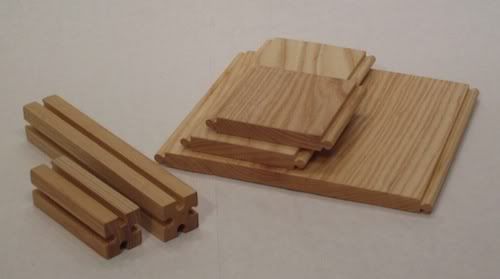 Short Posts
Tall Posts
Short Panels
Regular Panels
Wide Panels
Each post is 1 1/2" square, and has grooves on all four sides. Each panel is 5/8" thick and has a round bead on the right and left edges. Slide a panel bead into a post groove and the two pieces stay locked together. Adding more panels to a post you can create right-angle or straight walls. The posts and panels have enough thickness to stand upright on their own, even in a straight line, but if you add a wall at a right-angle, they become very sturdy.
The posts and panels are all designed to work together to retain right angles and even heights, no matter what combination you choose. For example, each short post and panel are exactly half the height of a tall post or regular panel. The widths of the panels are such that when combined with the necessary posts, they equal the same length. For example, a combination of three posts and two regular panels would be the same length as a two posts and a wide panel. This means no matter what combinations of posts and panels you use to create walls, they will always be able to join at right angles.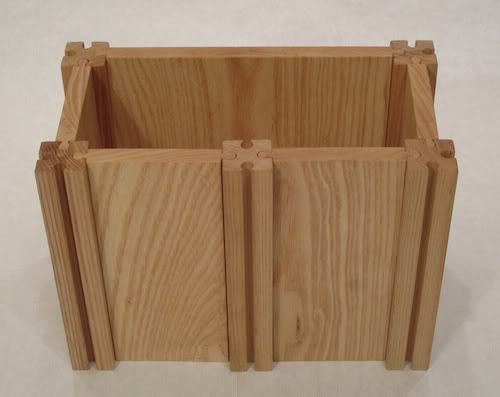 To read about how to build more complicated structures, see the next entry, titled (surprisingly)
Building Complicated Structures