Discussion Starter
·
#1
·
During the build
We built this project the first part of 2007. The house was built in the late 1800's and is on the National Historical Registry. Its was kitchen, pantry, butlery and small office combined. The case's were out of UV Maple with poplar frames and doors. All the drawers are dovetailed hard maple finished clear with Blum under mount slides.
The crown was in three pieces, the reeded lower portion had X's that were routed in with a jig. Pieces were then glued in and then carved over by hand. There was about a 100 or so of these.
All doors and end panels received flat panels with a lip molds. All the small columns that you on the cabinets see were milled on the Legacy Ornamental mill. They were glued together in halves with craft paper between them and then seperated and attached to the cabinets.
The following pictures were taken during the construction process.
<
Above is one of the base cabinets that went next to the range. There was two of these one each side.
<
Above is an upper cabinet that went in the butlery.
<
The far left cabinet above is an upper that went to the left of the range. The middle cabinet is an upper that seperated the kitchen and the pantry. The last cabinet is the sink base.
<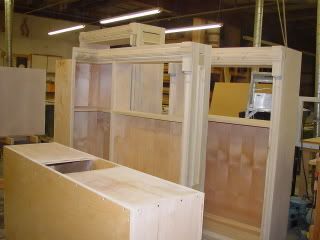 More uppers in the middle stages of construction.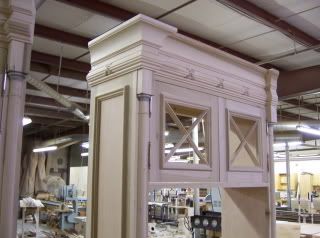 Above is one of the uppers, almost complete.
This is the cabinet that seperated the kitchen form the pantry once again, notice it opens from two sides.
Next is the butlery bar base cabinet, its up side down getting ready to recieve columns.
<
And finally this is yours truly working on the crown that went on top of the range hood.
<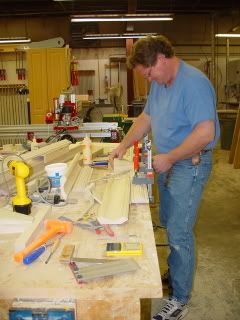 Next time around I'll walk you through the finishing process. There was more hours in finish on this project than there was on the build. That almost never happens, you'll see what I mean next time.