Discussion Starter
·
#1
·
Starting with the top.
Here starts something I always wanted to make. A pie crust table. This picture will give you an idea of what it will look like.
.
.
.
Now mine will have a top that looks like this one, but I plan on doing something different for the legs. I will be unique. It's something that just came to me.
.
.
Lets start with the top
. I had the perfect piece of 6/4 mahogany that I have been saving for this. The problem is that it was a little too short for the diameter top I wanted to make.
Here is a way to get more from your lumber.
Suppose you are using one piece of lumber to make a round table top, and you want as big a diameter as you can get.
Lets take 3 pieces my example. You could divide the length by 3 and make your cuts. That would work but you are wasting wood. I wanted a 34" diameter top but my lumber was only 97". About 5" short if I were to cut 3 equal pieces
Look at the following example:
.
.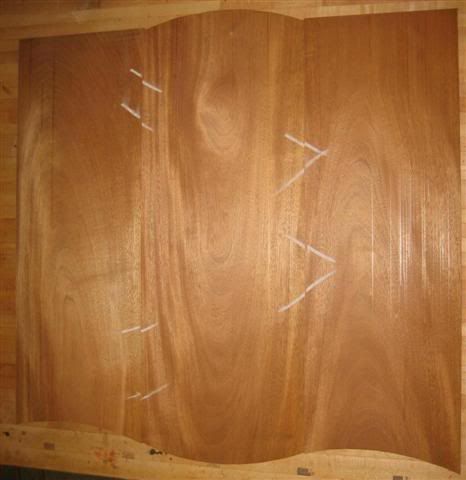 Notice that the center piece is longer than the side pieces. What I did was to mark the center of the piece of lumber and draw a 34" circle. Cutting the pieces apart following the diameter of the circle allows the lenght to overlap making my effective length longer.
Look at how much wood I would have wasted making a straight cut:
.
.
.
.
Now look how much extra lenght I gain.
More
than the 5" I needed.
.
.
.
.
Here they are glued up. I just use my bench for a flat surface with pieces of wax paper to keep the glue off the bench. I let the squeezed out glue dry completely and scrape it off.
In the background you can see part of my collection of PC routers.
.
.