Discussion Starter
·
#1
·
The search for the perfect Bench
Its time to replace my old workbench. I've been using a bench I built years ago from a Norm Abrams design. I had just purchased my old 1906 Home after watching too many series of This Old House and thought, " I could do that". I watched Norm work on a number of old houses and knew at the time, the only way I could afford a large home that was exactly like I wanted would be to buy an old house in need of work and then renovate it to exactly what I would like to see. This was so long ago, that Bob Villa was still the host! During those shows, I was always impressed with Norm Abrams and his abilities to renovate and work in wood. Shortly thereafter, Norm started his own series "New Yankee Workshop". I quickly purchased the New Yankee Workshop Plan Book and started to build a workbench based on the plans in that book. It worked out well when I needed it. I've had it for about 16 years now. Its served me well, but it has its short comings and I just need a new Workbench.
Here is a picture of the old bench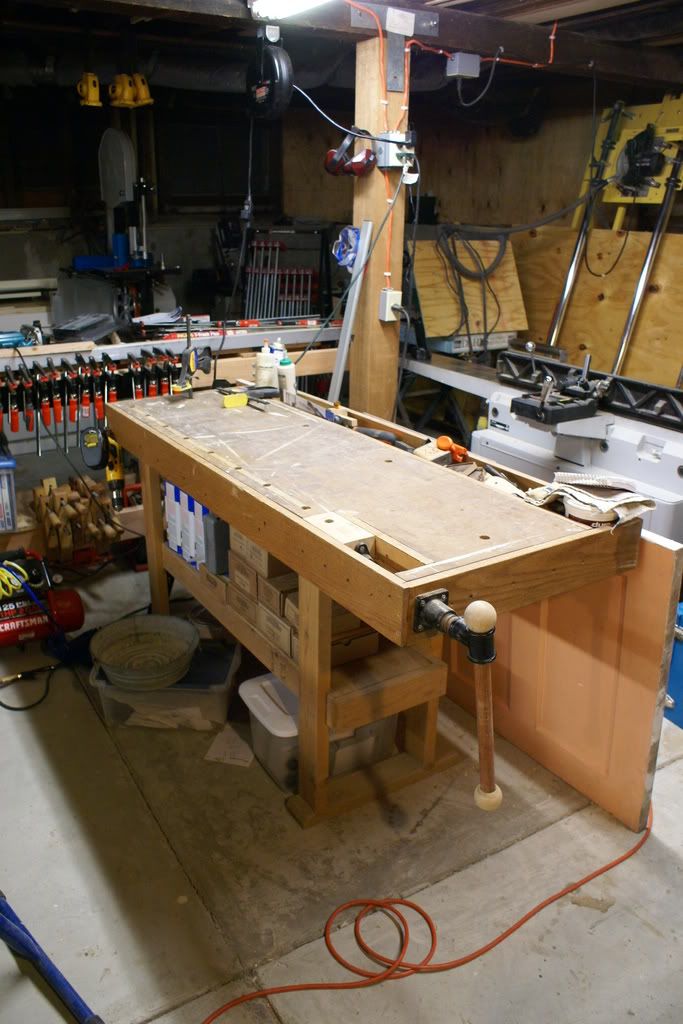 As you can see, it is still in pretty good shape, and well used. It has an interesting vise that I essentially built from Hard Rock Maple and a screw vise that I believe I purchased from the internet a long time ago..
There are a number of things that I don't like about it, besides the limited functionality of the vise. The tool tray is always full of tools and clutter. I don't know about you guys, but mine always looks like the photo below. So, I am considering not putting in a tool tray, as I will just clutter it up!
As you can see from the picture below, I need to finsih some of the doors from my old house and I cant get them on the bench and use the vise to secure them. So, I obviously need a longer bench, as I have 13 doors to finish in my house! So, the new bench will need to be longer…