Discussion Starter
·
#1
·
step up to the stand
I wasn't totally happy with the former workbench, turned lathe stand. So, when we moved, I re-purposed that to be the outfeed table for my table saw, and set about planning a new one for my mini lathe.
I had a couple plans that I'd almost made - but would have had to buy or salvage the right pieces. One was a great, and HEAVY, made with plywood and filled with sand. Twice, I almost started that one… but the idea of something lighter with properly splayed legs appealed more. We will be moving again afterall. Moving the shopsmith is killer enough. Lets not make a 300# lathe stand too! So plans were sketched out and brought to about 90%.... but the question I was most curious to entertain, was what could I make with what I had on hand? Something nice, and functional, that didn't look like I was just making do?
In the meantime I'd been using the lathe just sitting on the old folding workmate clamping table. Surprisingly that worked really well. just about the right height, and quite stable - until yesterday when I tried turning an eccentric piece. The lathe finally walked a bit…. So I decided not to keep putting off the "new" lathe stand.
I needed to build a top approx 10" by 20" with roughly 32" from the feet of the lathe to the floor. (To center the quill with my elbow height.) I'd seen many plans with a mere 5 degree angle to the legs being adequate to lower the center of gravity enough to reduce vibration, walking & tipping hazard while keeping the weight down.
I saved some pieces of the old house for this project. Specifically the old basement workshop stairs. One of the stingers and a support post. Circa 1880.
The stringer:
First up, to work out a plan where I could use the old lumber without having to fit in a bit of something else "new" that would stand out like a sore thumb. After trimming off the notched portions for the stairs, I had a 2.25×7" x 75" piece for the legs. Enough for two wide legs if I went with a trestle style leg, or 4 smaller splayed ones.
The post: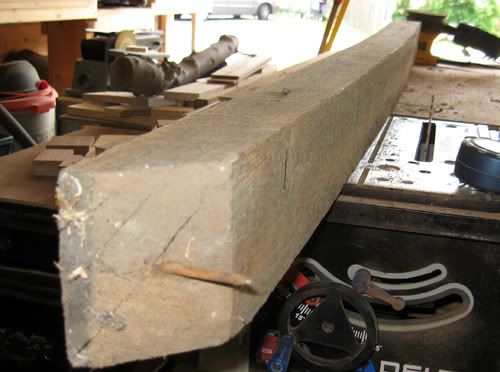 The central supporting post to the stairs. Still quite heavy and "fuzzy." Luckily it sanded smooth enough without losing any of the old mill marks. 60" long, and larger than a true 2×4. It also had, a nice long bow to it. No doubt due to 128 years of holding up the stairs.
If I was going to use just lumber from the old house for this stand - Oh the arbitrary "rules" that guide a project - I don't think I'd quite have enough for the top, and stretchers (and/or feet). As I looked around the shop for appropriate materials to also call into service. My little one, while looking for a place to sit and "work". Asked why didn't I use this piece (the one I just set down as a work surface for her) as my table top.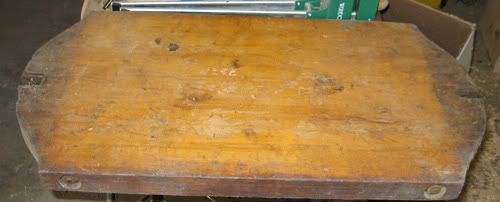 This is one of a few pieces I have (thick slabs of maple) used for book binding. It is a piece my Grandfather saved from his years in publishing, and passed them along to me with the rhetorical, "can you use this for something?"
She totally halted my train of thought. I think I was prepared to say no…. but… Hmmm. You know. Yes, that would actually be perfect.
I ripped a couple inches off each side (twas originally over 15×24) to bring the top closer to the dimensions I want, and put them in service as the aprons. To help keep the top flat and help with attaching the legs. It also occured to me to use the edges of a second one of these slabs (one that is already cracked down the middle, for the feet. A nice design tie-in to the top.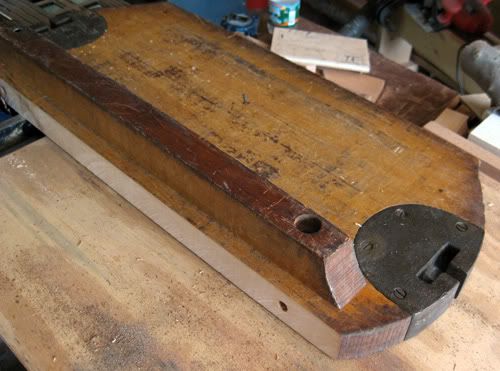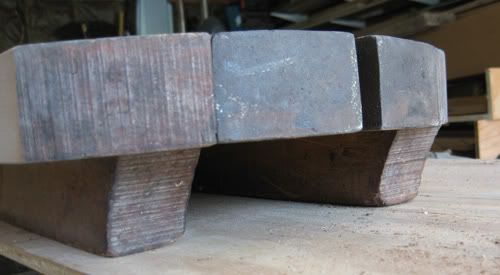 Look at that clean grain inside!
The legs, and cross rail will be made exclusively from the old shop stairs - mere inches from where I set up my first lathe! The top, and feet would be made from these printing relics from my grandfather. Furthermore, I'll try to alter them as little as possible, to honor where they've come from, and make for a nice conversation piece.
OK. Design decisions made. Trestle style legs, and long feet for stability (and ease of figuring out compound angles) - similar to my saw bench.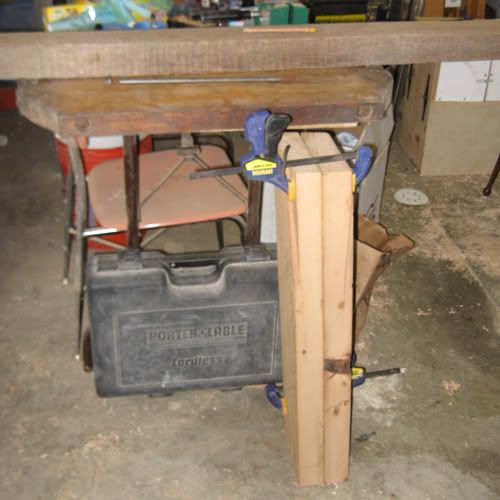 The legs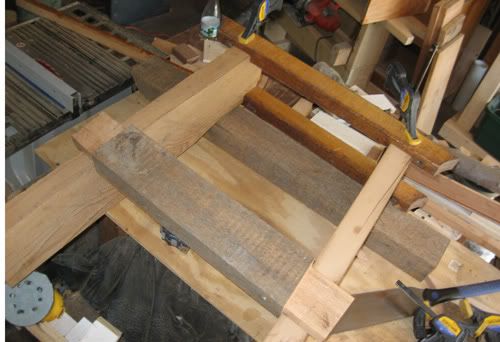 legs, aprons and rail. The latter, hand cut and rived out of that support post. Nice straight grained oak! Not too bad to cut, a dream to chisel to the line. Hand cut mortice and tenon joinery baby!... I've long wanted to make something by hand like this. Dare I use my inherited brace and bit to rough out the mortices? Ah, why not. The legs are nice air dried pine.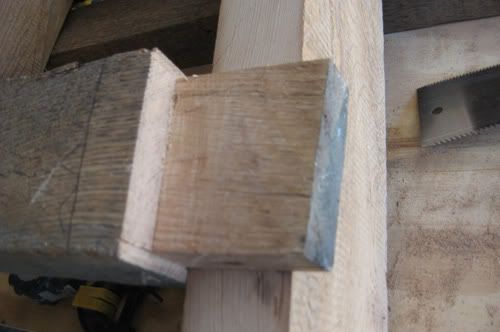 Not a bad afternoons effort. From a couple of old pieces of wood cluttering up the shop to a fully roughed out frame and finished top. Next up, mortising the legs, making the feet and fitting it all together.