Discussion Starter
·
#1
·
My New (Old) Unisaw!
OK…here it is my new saw! For anyone that hasn't been following along you can see my other blog about this saw purchase
here
So here she is, in her new home….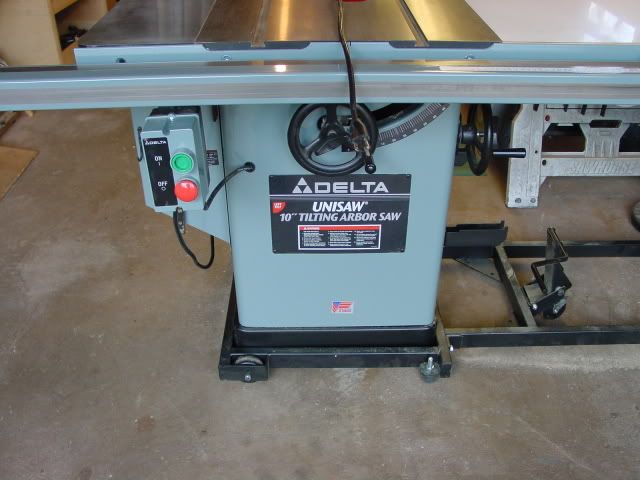 You can see in the close ups that this saw doesn't even looked used,....bareley any wear on it…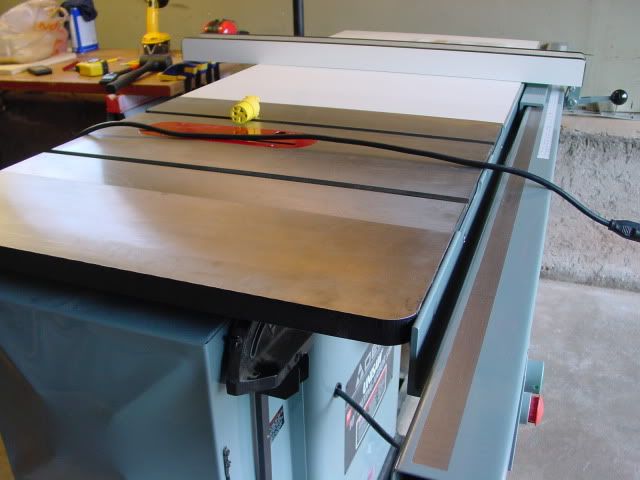 The fence…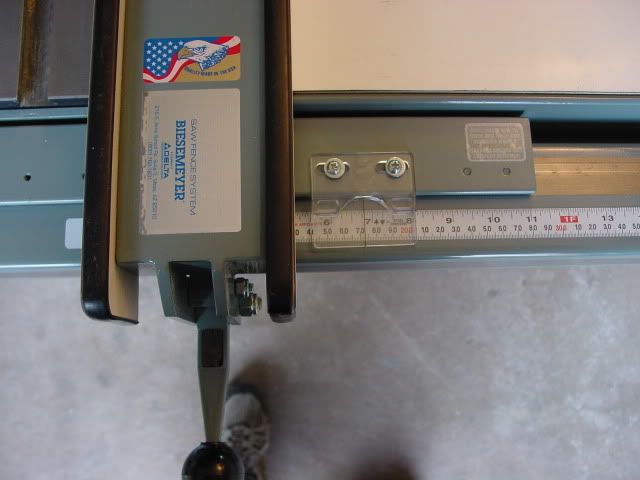 This mobile base is one of the sturdiest and easiest to roll around I have ever seen. It has a cool lever to put the wheels down. When you drop it , it sits on nice large sturdy rubber feet. I took some time and adjusted the feet so there was no wobble at all when its dropped in its spot. My slab is really unlevel and if I dont put it back in the same spot every time it might wobble, so I will be marking the floor so it goes back in the same spot.
So I have to make a temporary extension cord from my dryer outlet to the saw. No big deal, just for a little while till I can get a sub panel installed in the garage
I had some some anxious moments when i had a problem with my hillbilly extension cord….I didn't connect the NEMA6-20 receptacle properly and had a dead short it it and the plug sparked when I plugged it in…good thing the saw wasn't plugged in..thats why most of the time I prefer an electrician to do my electrical work…But I figured it out without burning my house down and soon the saw was switched on and it jumped to life. I made some test cuts on scrap and so far cutting with it is a dream! I just cut some plywood, and it cut it like paper, and the edges were smooth and burn free!( of course I installed my Forrest WW2 thin kerf blade!)
Here is the Nickel test….
http://static.photobucket.com/player.swf?file=http://vid120.photobucket.com/albums/o190/fella77/MOV01468.flv
So I had to unplug the saw so my wife could do the laundry....(pretty pathetic, huh! I cant wait to get my sub panel installed!) I asked her to do it today so I would have all day Sunday to play with my saw! I spent a good hour or so testing the parallelism of the miter slot to the blade and the fence to the miter slot. The blade is right there....within acceptable tolerances to the miter slot. The fence is about 1/64" out from front to back leaning away from the blade. The manual for the fence says this is the correct way for the fence to be aligned for safety reasons...less chance for kick back. I haven't made up my mind if I want to make it perfectly square to the slot or not....
If you notice in the pictures the dust collection chute just empties on the floor...not cool! I looked on line and at one time back in '01 the made a metal plate with a 4" dia dust collection fitting on it, but of course they are discontinued. I will have to figure something out on my own...
So there she is in all of her glory! The funny thing is I was chatting with the nice man that sold me the saw and he said I responded to his add, exactly seven (7) minutes after he listed it! Wow, talk about lucky.....
My boss gave me some scraps of Birch butcher block counter top 1 1/4" thick to make into cutting boards. This will be a great test for my new saw..I could never have cut these with my BOSCH....
You can see my garage is pretty empty except for my wood working stuff.... now that my barn is finished I transfered all the junk from the garage to the barn!! Now I can get to work building a shop in the garage...I was waiting to get my saw first since thats the heart of your shop...then I can build around it..a new bench, some out feed/assembly tables...a chop saw fence and extension table...but it all starts with the saw!
I couldn't be hapier with this new table saw..thanks for the advice and sharing this great experience with me...I know you guys can relate!