Discussion Starter
·
#1
·
The chair becomes real...
I figured I'd best get this blog done or I'll never do it.
Some of you will remember the morris inspired chair design I did in Sketchup.
Well it's finally starting to take a real form.
This is my 1st attempt to do anything that might be construed as fine furniture…we'll see in the end if it gets close. I've already made a number of mistakes I'm not happy with…a couple of odd twists of wood that split….a couple of bonehead hits with my hand morticing of the arms. I actually hope to turn that into a positive. I cut the mortices on the top of the back wide as well on purpose. I'm going to try to include crossing wedged tenons.
I plan to finish the joints with pillowed dowels. My original design called for chamfered square plugs. I changed because I think it will be a busy enough piece already and the rounded dowels will soften it some.
Anyway…here are some pictures.
Hand cutting to length on my Grandfathers miter box….I try to incorporate its use in some way in every project I do
Drilling Mortices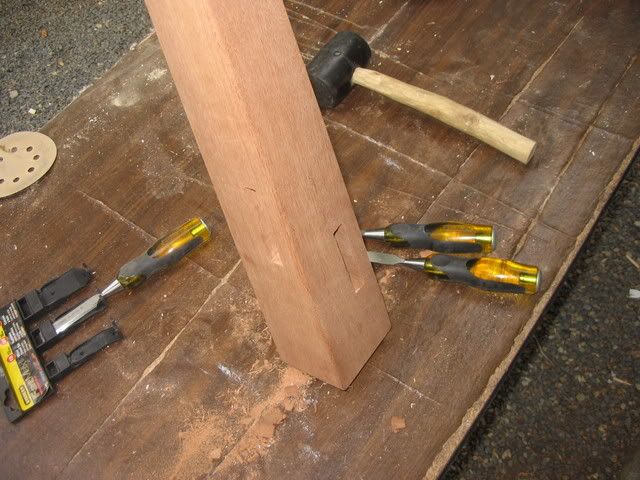 Squaring the corners and final shaving.
I cut the reverse tapers in the legs freehand on the new bandsaw…YeeeHaaa! After tuneup I cut all the tenons as well…very happy with the results.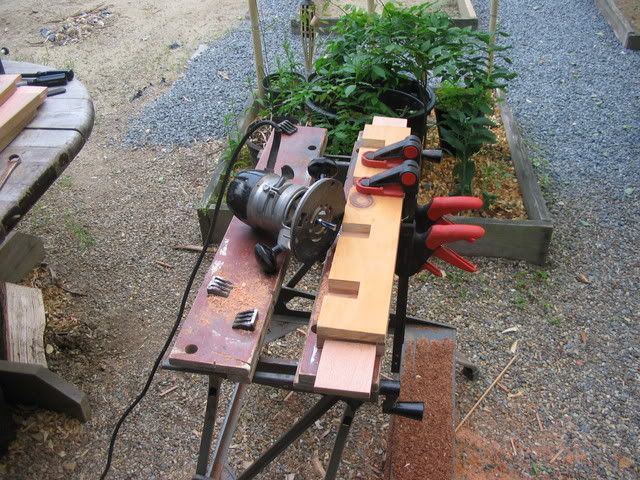 Routing the upper and lower aprons. I made a quick pine template.
Routing the dadoes for the rear seat support
The curved back supports…more freehand work on the bandsaw…I'm loving this thing! I'm doing a quick 120 grit sanding of all pieces as I go along.
The back goes together dry. Can't wait to see the pegs in there, even if it will be covered most of the time. i'm thinking of doing through pins on the back….whadya think?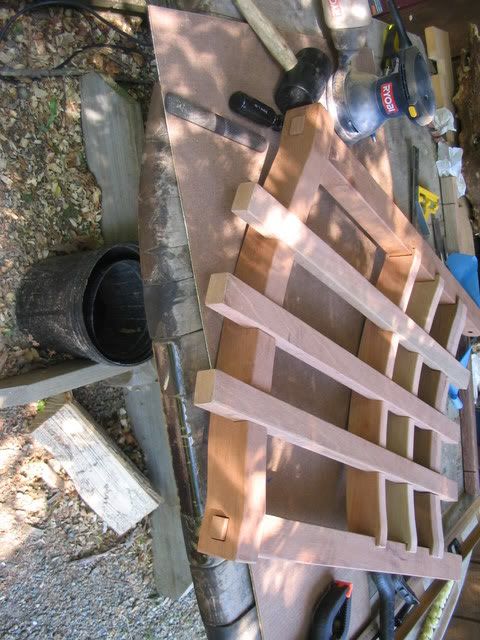 Top Back
The top mortice I purposely cut large to accept a crossed wedged tenon….after screwing up the arm the idea occured to me….so wish me luck. I'll show pictures of the arms next time. I'm not as happy with how they look. i had a blow out when trying my hand at hand cutting the mortice. Not only did I cut it too big…I also blew out he bottom. It glued back in and will be covered by the shoulder of the leg but I'm still not happy.