Discussion Starter
·
#1
·
Home Made Router Lift
This was my attempt at a homemade router lift. Working with a router under a table has always been frustrating to adjust to just the right spot. That's why I decided to research doing my own. I wish I could take credit for the design, but I found a really bright guy from Canada named Matthias whose example I copied. I cannot stress enough the enormous help his site was for ideas. Let me know if anyone wants a link to his site.
Here is what it looked when I first cut the plywood and the runners for the sled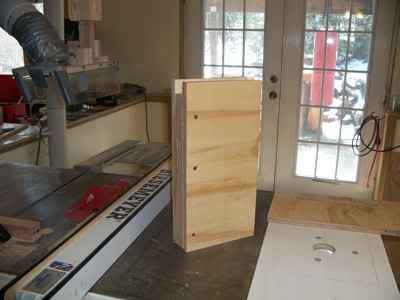 Here is the sled moving in its tracks. It moves quite nicely with very little play. Initially I thought that using a wood sled there would be too much wobble or movement, but that does not seem to be the case at all.
Here is the sled in two pieces with the screws showing. On the left you can see the nut that I embedded in the wood for the threaded rod on the right to go into. On the bottom right you can see the rough for the handle that will be the crank. There is a bearing in that piece of mahogany at the bottom that allows the crank to turn tightly yet freely
Here is a better shot of the bearing and crank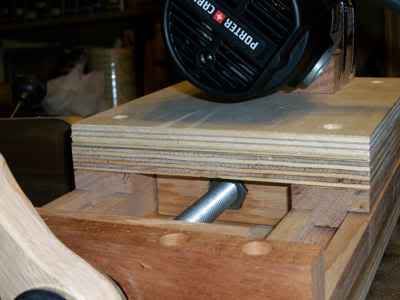 !
Here is the sled with the piece that will actually hold the router. I cut the cove by running the wood obliquely across the blade. I adjusted the angle until I got a cut that was pretty close to the router diameter. This piece is important as it really holds the router stiffly. The piece at the top was glued in to prevent dust from getting in.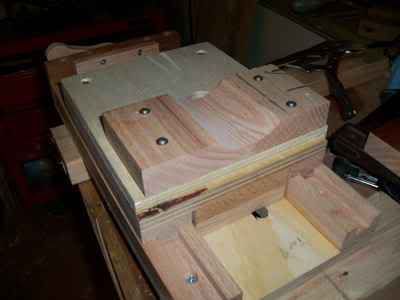 -
Here is the back side where I have a locking mechanism once the height is set. I just embedded a nut inside a piece of red oak and made a crude knob. The threaded rod is 1/2 inch. Later I will fix up the knob by carving and sanding. Right now I just want it to work.
-
Here is the setup I used to cut the cove. It is pretty crude, but it worked. I don't cut a lot of coves.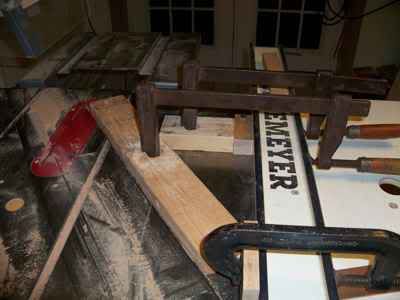 -
Here is the router strapped to the base with 4" hose clamps. The fit is very tight and the router does not move at all. If you notice at the left of the picture I have a 5" bolt that serves as a crank handle right now. I will probably change that to something a bit nicer, but for now it does the job.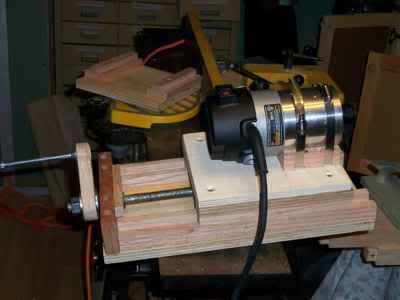 -
Now I have to mount it underneath the table saw. I am currently constructing that. As I finish I'll post more.