okay so this is the bench I'm working on…
and I'm going to be putting a back board on it (cut with a nice design though)...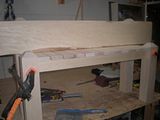 what I want your input on is whether or not I should put a hand carving of a mountain or something on the backboard hense I've never carved before but i have beginner tools for it. Also my project is still undergo so dont mind if it still looks too square to ya I need to do lots of sanding and routing still. But any input on a carving for the backboard would be appreciated. THX!