Discussion Starter
·
#1
·
Old hand planes, my first attempt at making my own tote
One great aspect of learning traditional wooden boat building is that you actually learn the wood working techniques with traditional hand tools. Which is a pleasure if you are used to the modern power tools of todays workshops. And a funny thing happens once you take hold of an old plane, drawknife or the like. You suddenly come in contact with the wood in a whole new way, you actually feel the wood as you move your tool across it. Another plus is that you can actually hear the wood reacting to the finely honed edge.
But along with those newly learned skills, come another more sinister thing. One day, about a month into it, you start
wanting
more. You find yourself scouring tool catalogues, hand tool books, and ebay. You want more! And you realize that there are so many different kinds of edge tools out there. You just have to have that antique Stanley plane. That beautiful No. 5 1/2 plane, not because you need it, but because it is a thing of beauty, another tool that can connect you to that piece you are going to work on next.
Is it just me? Well, I doubt it. At any rate, I indeed found myself in that position after using my first No. 3 smoothing plane. I wanted more, more hand planes one for more than just smoothing or cutting end grain. So I started researching, and settled on a few that I would start out with. So, I figured that I needed a Stanley No. 5 or a 5 1/2 Jack plane. In the end I settled on both. Hey, what can I say?
So, upon researching these planes, weeks of watching the going prices on ebay, ouch! And eying a few on vintage and antique websites, I figured that I did not need a "collector" quality plane. After all, I'm going to use the things. In the end I found a nice Stanley No. 5 type 19 and No. 5 1/2C type 9. Both great looking planes, in good condition by my standards. Both were mainly just dirty from age and neglect. But my 5 1/2C has a crack in the tote which had been repaired at some time during its life.
Now this is not a big deal, and I have been using it with no problems. But today after class, I had about an hour to spare. So I decided I would try to make a replacement tote for my 5 1/2 plane. A buddy of mine had an off cut of curly maple that he said he did not need, so I looked it over and thought, why not? It's not rosewood, I know, but it's my plane, and I can always put the original back on.
So, here's what I've done so far.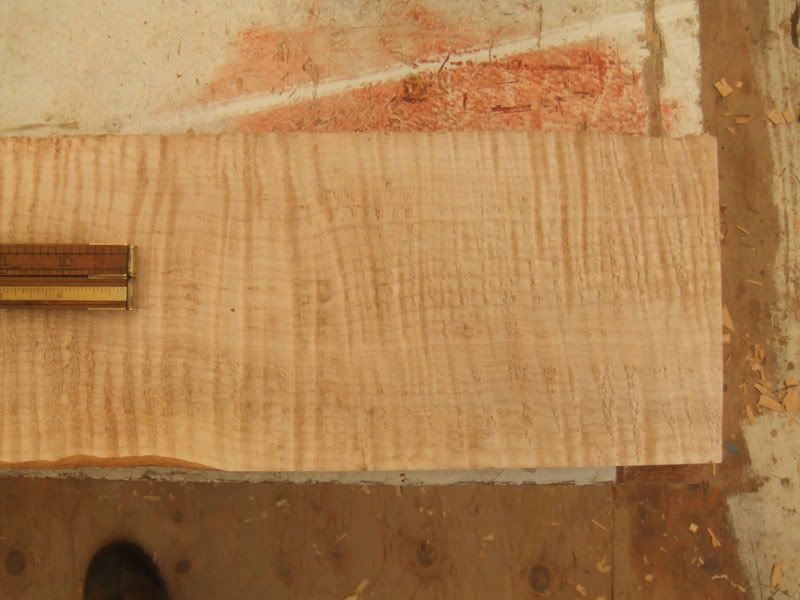 I disassembled my plane and removed the tote. Placed both screws that hold the tote securely to the plane in a safe place and got to work.
I first jointed one edge of the board with my No. 7 jointer plane. This will be the bottom of the tote.
Then I laid the original tote onto the stock and traced it onto the maple.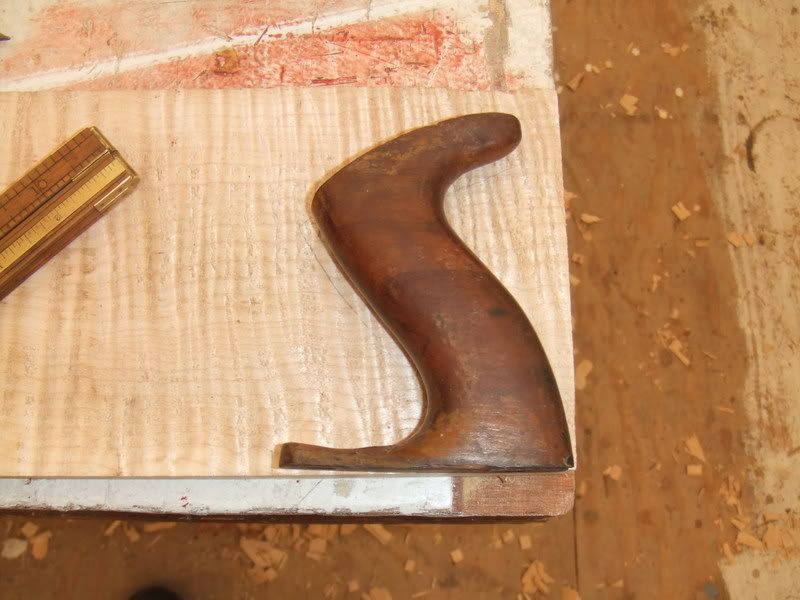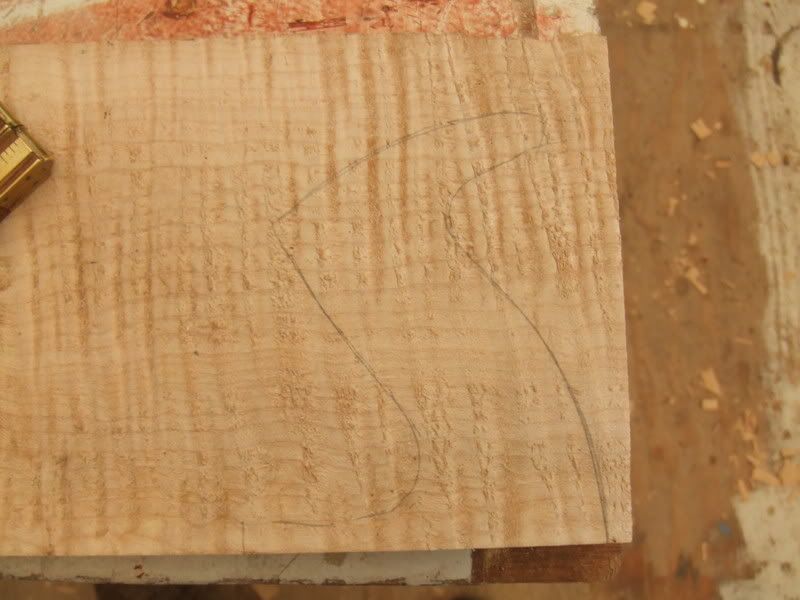 After tracing the original tote, I had to work out the layout for the hole bored through the handle to allow for the long retaining screw. I tried to get the angle with a bevel gauge, but the blade was not long enough. So I resorted to measuring. I measured to the center of the hole in the bottom of the tote, getting my measurement from the rear of the tote forward. And the same way I located the center of the top hole. Then I laid those measurements onto the stock. Then I divided the thickness of the stock in half to find the centerline. Marked that on the bottom where it intersected the retaining screw hole, pulled out my drill and twist bits.
I chose a bit size one size larger than the diameter of the retaining screw, to allow for the fudge factor. I laid the stock down flat, sighted my drill to the layout line, made sure I was level and drilled a 3/32 pilot hole. Then I chucked up the larger bit, and sighted again, and pulled the trigger.
Once the hole was drilled, I took the piece to the band saw and cut it out. So far so good, it's beginning to look like it should.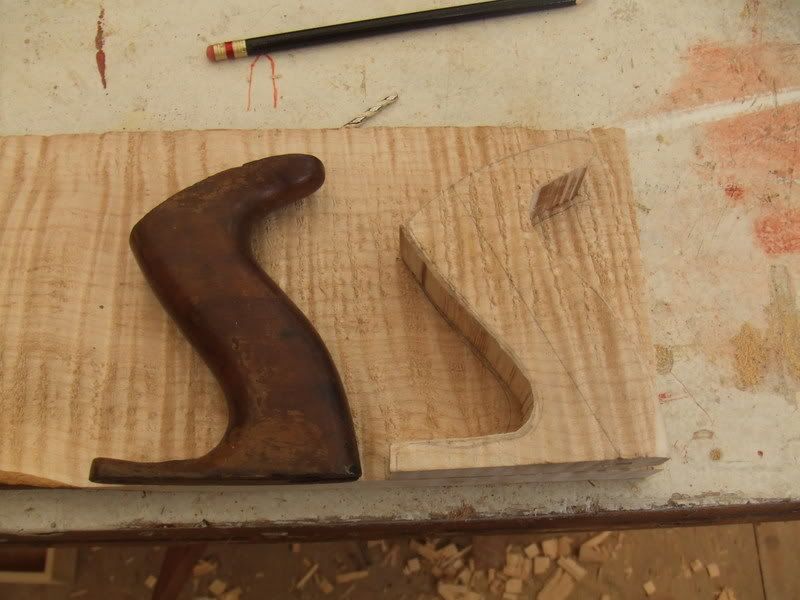 Once I cut out the blank, I secured it into the bench vise and grabbed my round bottom spoke shave to start the shaping process.
This is as far as I made it today. I'll be back at it tomorrow afternoon with rasp in hand. Shouldn't take too much longer to finish the shaping/sanding and then I can test the fit, drill the smaller retaining screw hole and call it good.