Discussion Starter
·
#1
·
Roughing Out The Base
As a few of you may know, I am a woodworking newbie. I just took the plunge last summer and purchased a bandsaw. Money is still pretty tight for us but I have been able to pick up a few basic tools here in there. I decided to buy a hand plane simply because I could buy a nice plane for much less than I can buy a jointer and planer. I immediately became hooked on hand tools. I am still in the middle of making a small tea box for our kitchen table. I have most of the box complete but I still need to break the sharp corners and make a top. I plan on making the top out of some ambrosia maple that I picked up.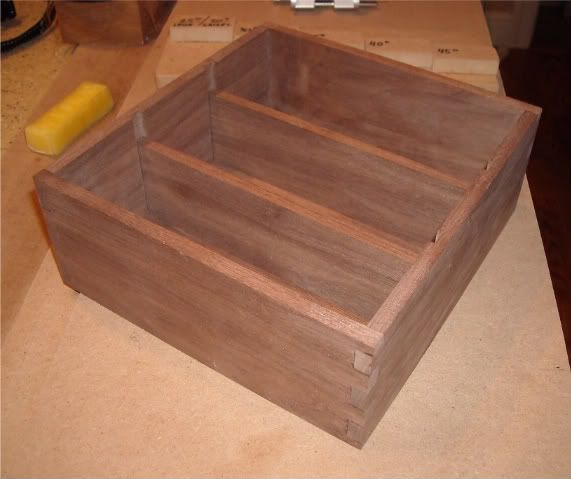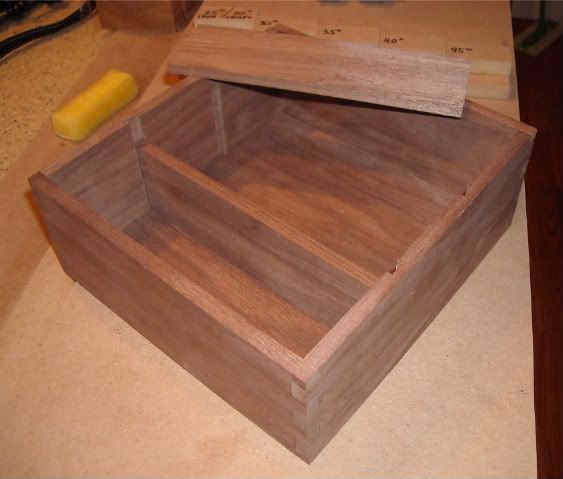 The only tools I have used so far making this box is my lie-nielsen bevel up jack plane, a 1/4" chisel, shooting board, and my bandsaw…plus basic stuff like clamps, marking knife, etc.
For my first hand made project I think it has turned out pretty well so far. Even the box joints are pretty decent and should mostly disappear once the oil darkens the end grain of this walnut.
So, excited by my progress I decided I can probably make an end table using just these few basic tools and try my hand at mortise and tenons.
I downloaded google sketch up to make a rough drawing and make sure my proportions looked like they were in the ball park.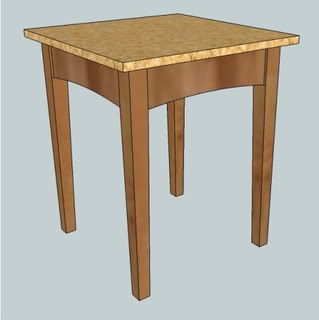 Next I went on the search for some 8/4 walnut to start on the base. Finding lumber here in southern Indiana has been a challenge. I finally found a couple of places to buy lumber at a good price, however 8/4 walnut was still not easy to find. I did manage to track some down but what I did find was #2 grade and to be honest, it sure looked worse than that. But I really wanted to make the legs out of one solid piece, so I bought way more lumber than I needed and tried my best to lay out the legs and skirts around the knots. Some of it could not be avoided as you will see below. I cross cut the lumber with my Dewalt Circular saw (one of the few tools I had before this summer) and then ripped the boards down on my bandsaw. I then brought the rough pieces to my shooting board (I have no work bench yet) and taking very heavy shavings cleaned up the saw marks and roughly sized the blanks. Here is what I ended up with. Notice a couple of the knarly knots!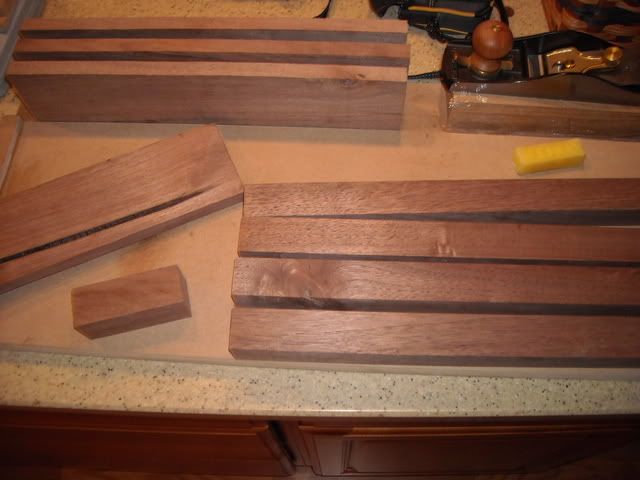 I then started with the legs by smoothing one surface flat and setting my plane to take super fine shavings to get rid of the tear out where a few of these pieces change grain direction and swirl around. I love this lie-nielsen bevel up! SWEET!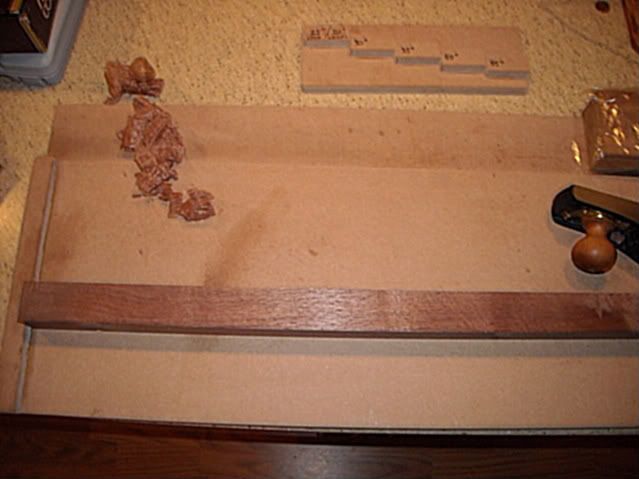 I then turned the smoothed face down on the shooting board and smoothed one adjacent face 90 degrees to the original face. Hint when shooting 1 1/2" wide lumber - Use lots of wax!!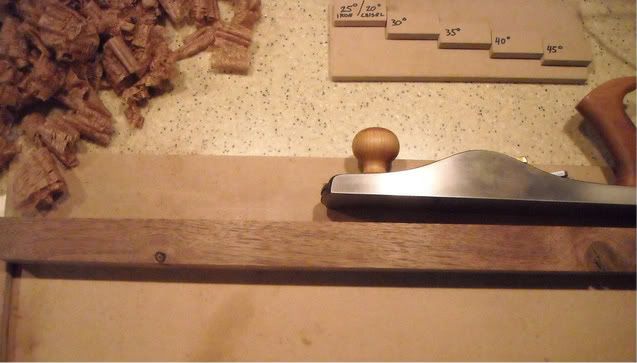 Now with two faces smooth and square I set my marking gauge to the desired width and registering the gauge off of the smoothed face, marked a line on both sides of the board. I then planed down to the line on each side. By doing this it makes that face parallel to the opposing face. Repeat this process for the remaining side.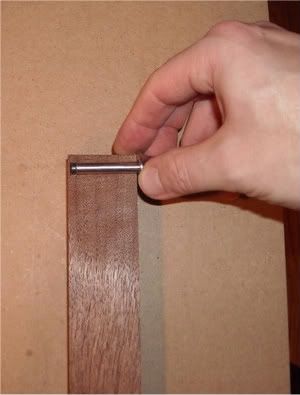 Now with all 4 sides smoothed, squared, and parallel (the length of each leg is still oversized and rough) I decided to start working on repairing one of the major knots that - although it will be hidden on the inside of the table skirt - is pretty large and I am concerned that it may impact the structure of the mortises that I need to cut into this section of the leg. So I marked some lines from the outside faces of the legs. This area will be chiseled out and I will glue a piece of walnut into its place. The glue lines will be hidden by the skirt, but I will now have something nice and solid to cut my joint into.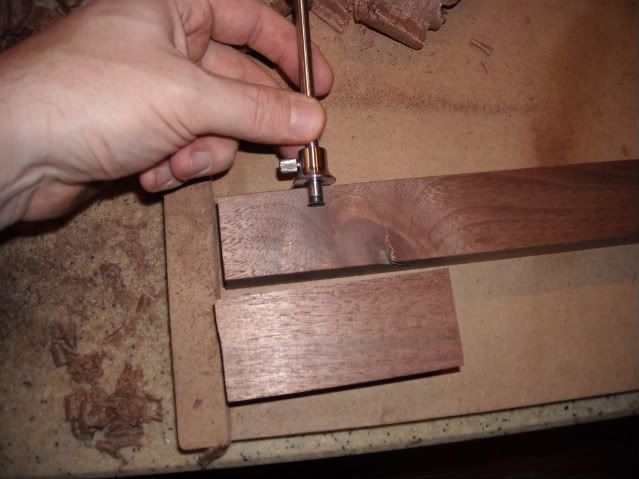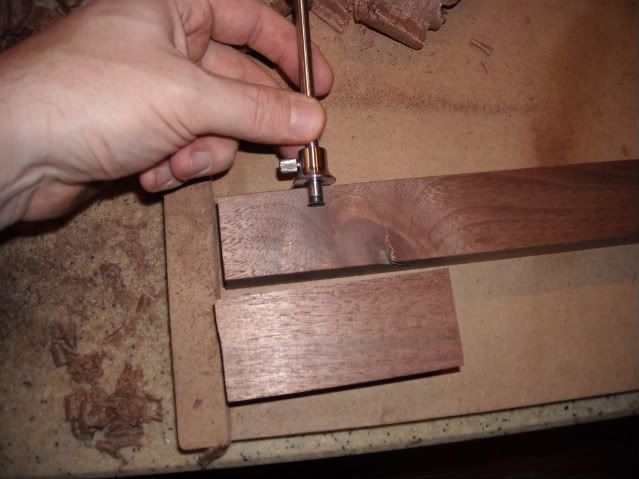 And that's how far I have made it so far. I decided that tonight I would take a break. Given that I am a newbie it has taken me about 8 hours so far. If I were not so picky and concerned about screwing up, I am sure I could have been much further along by now. But speed will come with time I guess! It does not help that I normally only get to work about 1-2 hours at a time.
By the way. Here is a picture of the shooting board and sharpening jig I use. I made both out of one piece of 1/2"x2'x4' MDF. I also have a small piece of 1/4" MDF that I can place on top of the shooting board to reduce the height of the stop from 1/2" to 1/4"...this way I can still plane the thin stock that I made the tea box out of without tearing up the stop. The sharpening jig is basically the same that lie-nielsen recommends on their website. It works extremely well. Simple, inexpensive, and effective. I am very happy with it.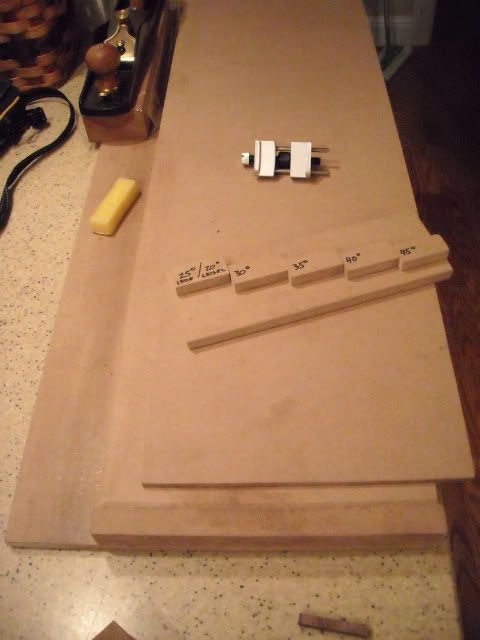 So that's that! More to come as I get more time to tinker.