Grizzly - G0593 8" Jointer (Rating: 5)
This review is going to be a little different. (I am in a good mood)
I decided that after years of doing it by hand, that it was time to buy a good jointer. As I have stated before, I am a little obsessive when it comes to buying a high priced tool. If it is something I can lay my hands on and look at, I usually have no problem just pulling the trigger and buying it. But when it comes to ordering a tool I have never seen/touched or used, and then giving the lady/man on the other end of the phone my credit card…well….I get a little nervous.
After countless hours of research.

and lots of advice from some fellow Lumberjocks I decided to buy a G0593 8' with a spiral cutter head.

I was going to buy a G0586 with a four blade system, but after thinking about it decided to go with a spiral cutter head. Todd, (A fellow LJ,) suggested a ten inch jointer because of what I do, I strongly considered it, but just could not let go of the extra $800 or so dollars.
So I ordered my new jointer and crossed my fingers that all would be well
I ordered it this past Monday, and the delivery man called me on Friday afternoon to set up a delivery time. Now when I ordered this, the lady at Grizzly told me what freight line would be delivering it, and told me I would need help because the driver was only responsible for getting it onto the lift gate. So I had it all planned out to slide it into the back of my truck and then to get some friends to help me get it in my shop. The driver was VERY friendly and said, " Are you putting this in that shop ?" After saying yes, he offered to use his pallet jack and roll it right into my shop. Needless to say, I took him up on his offer.
The packages had no damage (A good sign) and I started to unpack my new toy. After I got the cabinet out, I measured and made a mobile base for it (Read review of "Heavy duty casters") and then with the help of a neighbor, put on the jointer bed.
I had read some reviews that the factory belts were cheap….and a real pain to put on. After one look at the belts with Chinese writing on them and they felt like rubber bands, I went to the local parts store and got some good belts before I even started.
The reviews were not wrong about the hassle the belts were…. you have to stick your head inside the machine to be able to line them up, and for a guy who is almost 6 ft 4…well lets just say I had a few choice words and was glad my daughter was not in the shop

After fighting with the belts and alignment for awhile…everything else went as smooth as silk. The beds were not set properly from the factory…but that was a easy fix.
Here is my new jointer on my homemade mobile base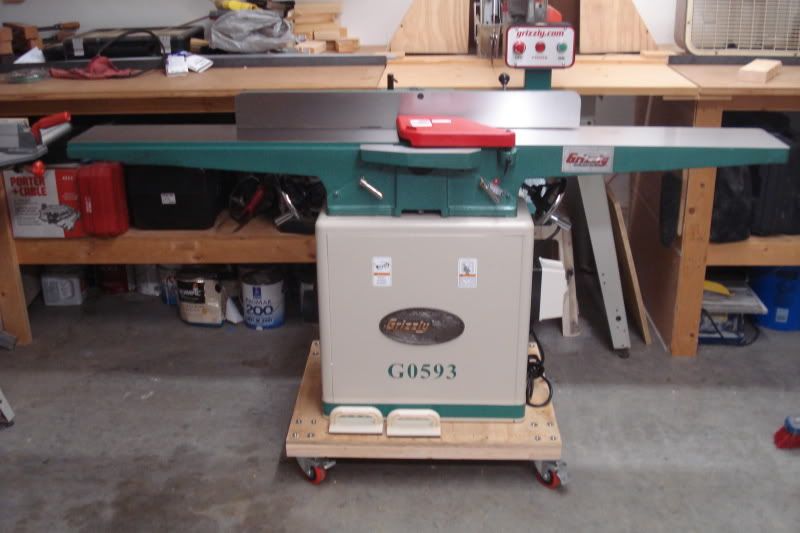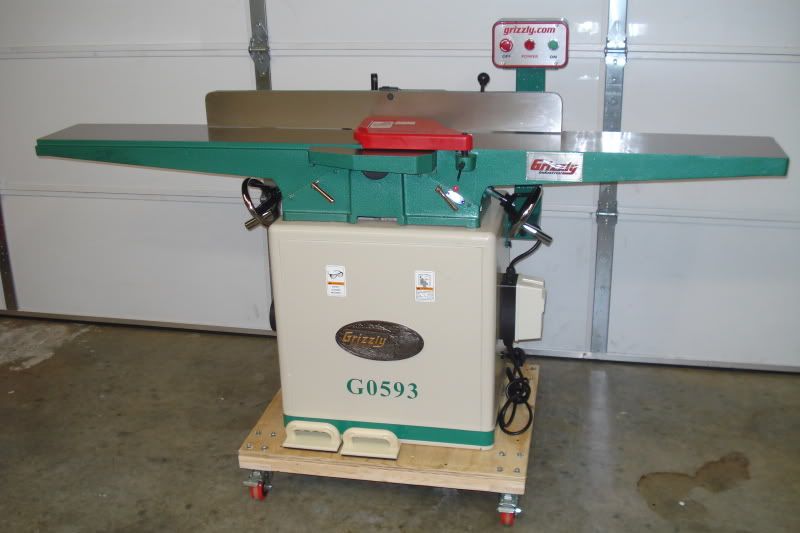 After I hooked it up for 220 (warning here, the add says 110 or 220, but if you decide to run it on 110, you have to buy a new magnetic switch, something they do not tell you when you buy it) I fired it up for the first time….I was smiling from ear to ear, VERY little noise and hardly any vibration.
Time to test it out… I grabbed a old piece of Oak that was just laying in my scrap pile, grabbed the push blocks that comes with the unit and let her rip, all I can say is WOW…it came out smoother than my old planner does…felt like glass. I played with it for about ten more minutes and ran several bowed and warped pieces through the machine.
After squaring up each piece, I put them on a very good quality square and checked to see how true it was…again, nothing but smiles on my face

So needless to say, I am VERY happy with my new Grizzly jointer and would highly recommend the G0593 with a spiral cutter head to anyone in the market.
For that matter, I am about to upgrade several pieces in my shop, After the experience I just had with my new jointer (Quality, ease of directions, well made) and the way the Customer service was (VERY friendly and helpful) They just won a new customers business. As long as each piece comes in the same way, I will continue to purchase their equipment.
So if your looking for a new 8 inch jointer, I strongly recomend you at least look at this jointer. For the price (almost half of some of the other major brands) and the quality preformance it gives…It will make the world seem like a better place !!!

(Well, at least better in my shop anyways).