Discussion Starter
·
#1
·
Explanation and Plans
Each year on the first weekend of December I travel to New Jersey to spend the weekend with my nephew, who is now 6. We go swimming at the hotel, have lunch out, and work on a project. The first project, when he was 2, was a set of shelves for the very small first floor bathroom of their house. He didn't help a lot with that, although he was very sure to make sure that I fixed the bathroom door which had to be removed from the hinges to provide enough room to work in the tiny bathroom. Each year since I've taken down a project for him and me to work on.
Last year he suggested that we make houses this year. This still sounded like a good idea to him when we spoke last month. I spent some time looking for patterns, but didn't find anything that looked like it would work. Criteria for this project are that it had to be easily transportable, couldn't take too much time to create, and had to be something that a six year old could do most of the work putting together.
Finally it hit me. We could make a wooden gingerbread house. First I needed a pattern. I headed to the kitchen and pulled out the gingerbread house cookie cutters. With those as inspiration I turned to the computer and SketchUp. Several hours later I had a pattern I thought would work. I adjusted the pattern so that all of the angles are 45 degrees to make it easier to set tools for cuts.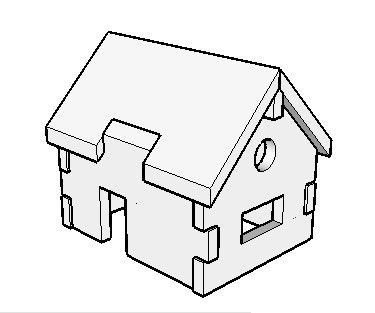 One gable end and the door side of the house.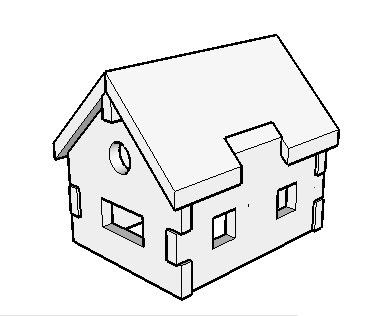 The same gable end and the other side of the house.
The other gable end only has the round window.
Next step milling the parts.