Discussion Starter
·
#1
·
Trebuchet!
This is a repeat from the project I listed previously, but I thought I would take this time to start a series, since I plan on making other siege weapons.
This project is close to 4 years old. I made it with the scrap oak, I had left from the little table I posted a project about last week. It is a fun little trebuchet, put together with pegs, and the throwing arm on a threaded rod. The picture below shows it with a 2.5lbs weight, but at times I have had up to 7.5lbs on it. With 21" (15.25" above the fulcrum) it will throw a bouncy ball about 50' on a slight uphill. (Never fired it on level ground.) The ball will usually continue to travel to the end of the street, or 3 more houses down.
We have used this at cub scouts, to wing 1" bean bags, with the scouts awards in them, at a castle. But only with the current weight. THe guy whose idea it was to try it, test fired it with the 7.5lbs, and sailed a beanbag all the way across the church santuary.
I think my oldest son and I will start a new one tomorrow. Maybe a catapult this time, or an onager. Anyway, I know a couple people asked for plans of the trebuchet that was posted last week, so I decided to make a sketch-up drawing of mine. If you would like a copy of the sketch-up file, I will be happy to pass it on. Just drop me a note.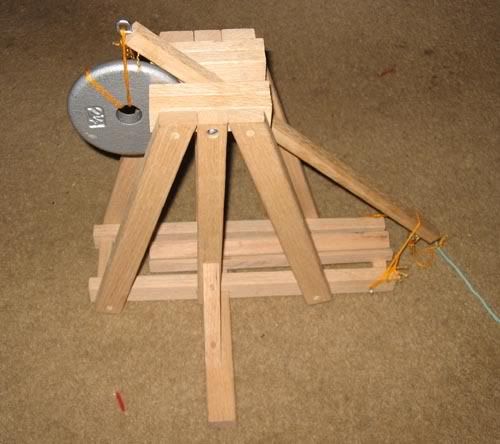 I added the model to
google sketchup warehouse
and found many others out there too!
I restrung the swing arm, and put a new pouch on it. The boys removed the old one. The firing mechanism is a rope over arm (string over in this case), with a nail as the sear. (very high tech)
Here is the pin that hold / releases the string
Here is the pouch that hold bean bags, and bouncy balls.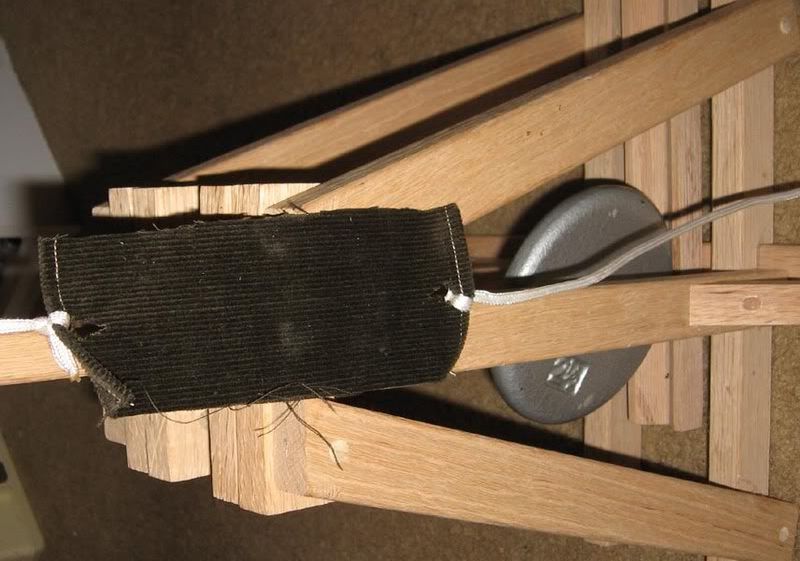 Next project….. The desktop Onager!
If I get a good video of it shooting, I will be happy to post it. I have already drawn it in sketch-up. Now just to construct it.