Discussion Starter
·
#1
·
Further down the bowl turning rabbit hole...
Yesterday marked the start of finally getting into bowl turning, something I'd been meaning to do for a while really. The whole pen making thing was as much accidental as anything else, since I got a bunch of pen kits with my cheap lathe, and it seemed a good way to pass the time and churn out some holiday gifts in the process. (I've actually sold a couple, amusingly, so I guess its a good time filler afterall)
However, I'd really bought the lathe to learn to turn bowls, and someday hollow forms. The projects here have been incredibly inspiring, particularly trifern's gorgeous hollow forms. Someday I hope to be able to do something like that, but for now I need to figure out what I'm doing with face work in general.
I have a few blanks lying around that I'd picked up that're more interesting, so I decided I'd load one up on the lathe and document the process.
I don't have a bandsaw, so turning the square blanks yesterday was a real pain. Fortunately, these blanks were roughed into a circle, which really made a huge difference. I see a bandsaw acquisition in my near future.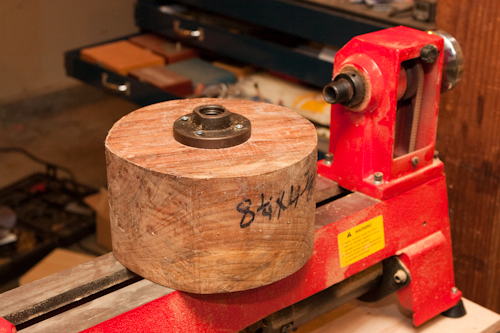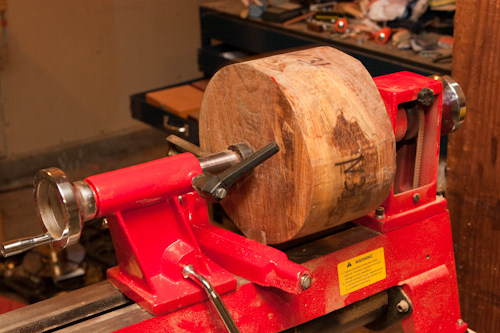 This lathe was very clearly not built for turning bowls of any size. This 8 7/8" blank barely fit over the bed (10" swing? Right…) More to the point, its still somewhat green, which made my poor little 1/2hp benchtop very unhappy. However, it did the job, amazingly. I managed to get it roughed out in fairly short order. Its amazing how much easier it is to turn green wood than it is fully dried.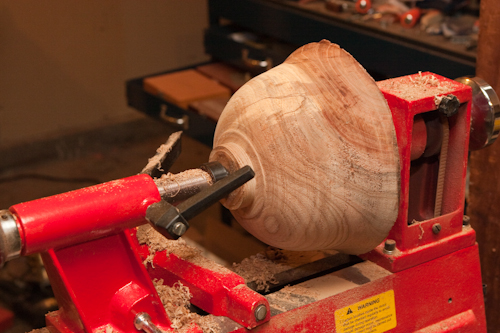 Outside roughed out, and onto my scroll chuck. I have some problems remounting the blank onto the chuck it seems. For some reason, I can't get it to turn on the previous center quite correctly. I've tested the chuck, no runout. I'm guessing either I'm not squaring the tenon shoulders quite right, or I'm leaving an uneven flat section on the tenon that's causing it to be a little skewed. Either way, this one wasn't quite as out of balance when it got remounted as the subsequent on I did (and didn't blog about, sorry).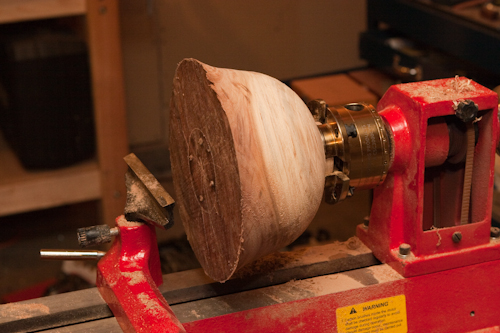 And, rough turned to ~1" walls. I can see why people enjoy larger green blanks, working with the small 2" thick commercial blanks on my previous couple bowls was incredibly limiting. With decent blanks available on eBay and other places for not much more than the "exotic" and tiny blanks sold by Rockler and places like that, I can't see myself turning anything other than domestic hardwoods again.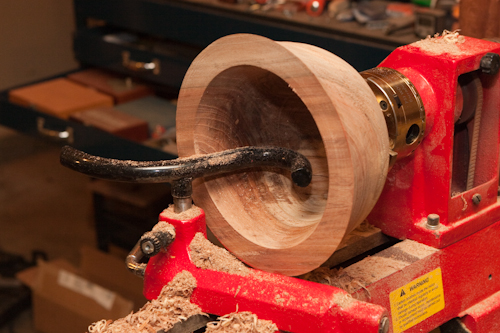 This blank didn't feel quite a green as the seller suggested, it turned relatively dry, but I had another roughed bowl that was definitely green and I wanted to try the denatured alcohol soak drying method I've been reading about. So, into the bucket with my blank. On a side note, its incredibly hard to find denatured alcohol that isn't >50% methanol. The crap sold at the big box stores and Ace is terrible. I ran down some good quality DNA at True Value, but its a lot further away from my house.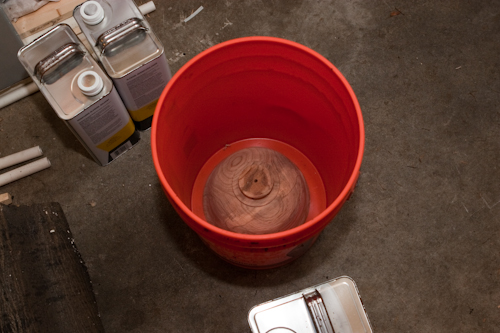 And, out of the bath! This looks like it'll be a beautiful bowl if it doesn't crack while drying and I managed to not mess it up when I do the final turning.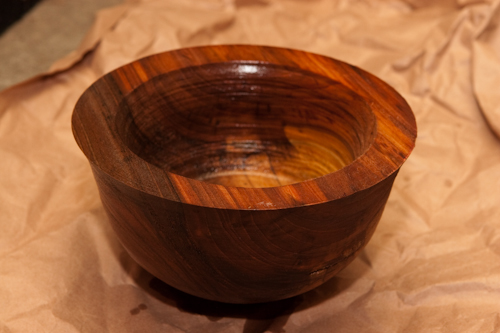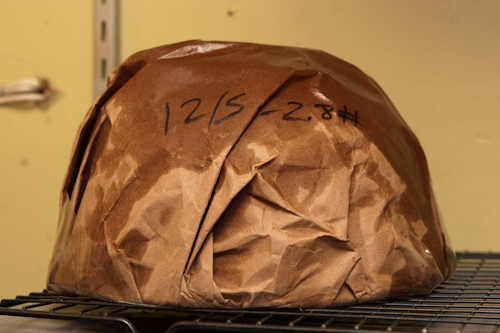 Wrapped up, dated, and labelled with its weight.
I'll follow up more in a couple weeks once this has a chance to dry out a bit, but I'm looking forward to turning something more interesting than a 5×5x2 square blank! I can tell this is just the beginning of a long and fulfilling journey.