So my guitchair is in the finishing stage now. Just stained it last night and there's what appears to be a glue type smear on the top back. I used hide glue, and was careful not to get too much of it anywhere else, and I'm sure this stain wasn't from my doing, but prior finish and abuse the chair saw before I picked it out of a trash heap.
I wiped it down with mineral spirits the days before finish to find any spots that might need a little more sanding and didn't find anything; however as I was laying on the stain, this shined through.
I think it'll be less noticeable with the finish applied, but is there anything you might advise to minimize the chances of making it worse or perhaps make it better? The stain is Michael's Cherry which is commonly used for mission style furniture, and I really had to drench it with one coat to get it into some deep grain pores. I could apply another coat which would darken it up quite a bit.
The chair had been in the trash and had some rot, splits, stains, paint, sun damage, etc. when I found it. I have a series in my blog about the restoration:
http://lumberjocks.com/CueballRosendaul/blog/45913
The picture makes it look a lot worse than it actually is. Here is a snapshot of the chair from the back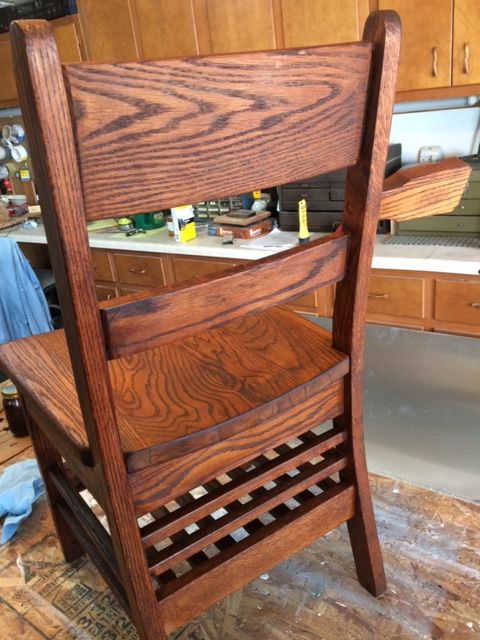 I left a lot of scars, plugs, and wood filler to give the chair some character, but I'd like to minimize this blemish. Any advice?
Matt