Discussion Starter
·
#1
·
From Micro to Macro
Having thoroughly enjoyed making the Little Bess Ring Box, the smallest project I've ever made in boxes, I have decided to go to the other end of the scale. I've always hankered after a Drum Sander but could never afford the £500+ price tag. I idly tapped 'drum sander' into the search box and found that not only was I not alone in not being able to afford one but that there was a solution. Build you own. There are numerous ideas out there but the soundest seems to be (I'll probably regret saying that, I usually do) The plan off of Dominics Woodshop. The link is provided on a blog by Yorkshire Stewart to whom I am grateful.
http://www.rockslide.org/drum%20sander.html
Scroll to the bottom of the page and click on the PLAN link
First things first what have I already got to make this a 'goer' or possibility. Well an old induction motor and pulley set
various bits of hardwood, screws etc. etc.
Most of it I've had to buy in though and I'll total it up at the end. Anyway I started off with what has become one of my favourite pasttmes, scouring the net for bargains. This turned up the pillow block bearings, steel rod and a longer pulley belt (longer than the one I had). This allowed me to size things up on the bench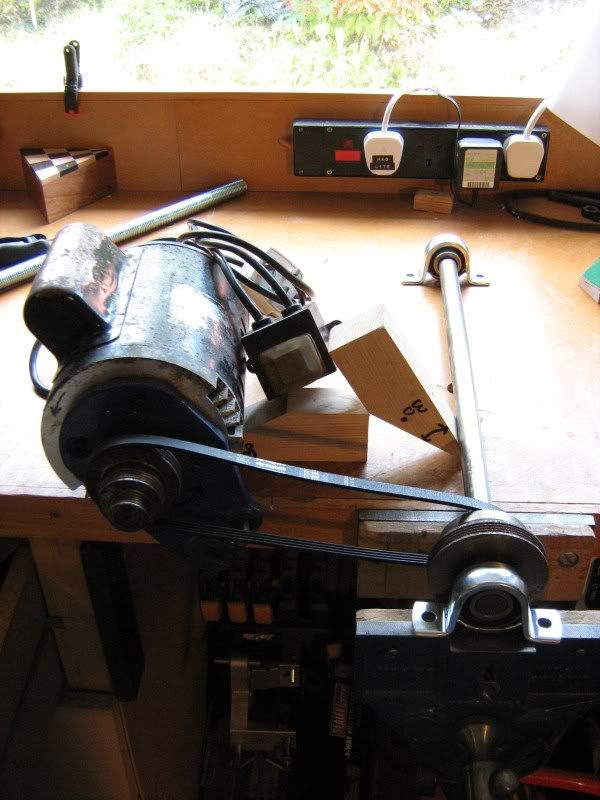 The original design has a 12" wide table and drum but the 3/4" steel rod I had bought allows for a 14" table. Theres a bonus.
Most of the rest of the stuff; timber (I chose softwood its cheaper), screws, threaded rod I could buy from work (and get a 10% discount).
This shows the frame pieces cut to length. Cutting the lap joints on the tablesaw was going to take forever with a 1/8" inch blade. Dado blades seem to be hard to come by in the UK so I improvised. The depth of the arbour on my saw allowed me to double up on blades (6mm or 1/4"). I know this is risky but I asked permission from Autumn's tablesaw Gods and did it up extra tight. Stood to the side and set it running. A minor tinkling sound, which turned out to be a small piece of sycamore trapped in the guard, but no explosions or flying saw blades. I let it run for 5 minutes. Still no problems. With this setup I finished off the 26 lap/halving joints in an hour and a half. Result!
I've lined the struts the bearing blocks are mounted on (and the one the table pivots on) with whatever non-exotic hardwood I had laying about. Oak and Maple. So here's the build so far.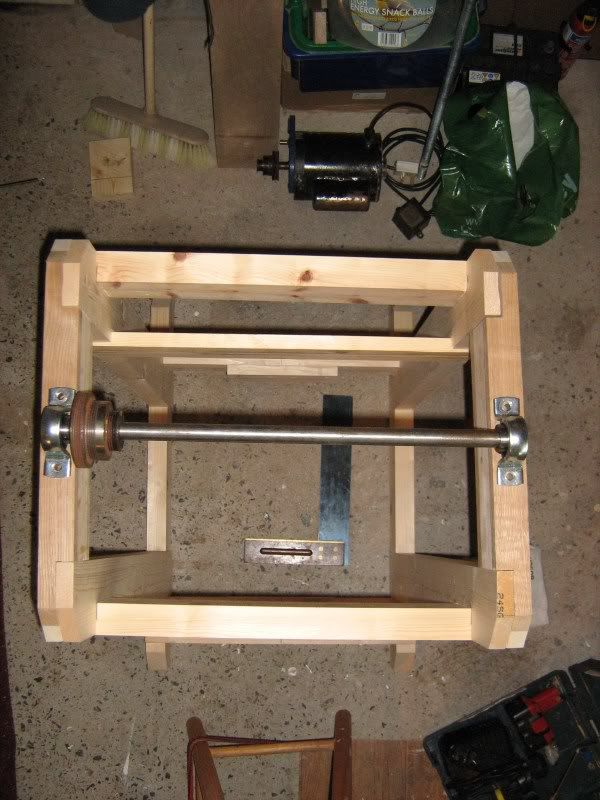 This has taken about three days so far but I'm on holiday this week so who cares