Discussion Starter
·
#1
·
Drill Press Dust Collector Fixture
Several months ago, I ordered the Peachtree Drill Press Dust Collector.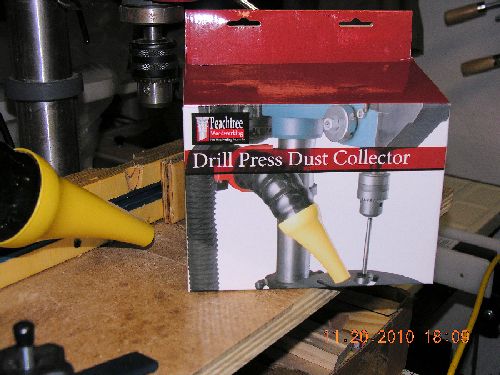 When it arrived, I was disappointed because it never occurred to me that the product was not really intended for the type of drill press I have (Performax Model 90219). The problem is the quill on my drill press is only 4 1/2" from the column, and the nozzle is about 5 1/2" long.
Peachtree does offer a set of adapters to accommodate 8", 10", and 12" benchtop models, but I decided to improvise.
I built a fixture with plywood scraps that attaches to the underside of my drill press table, and uses a standard 2" pipe flange and an 8" length of 2" galvanized pipe to serve as a mount for the Peachtree Drill Press Dust Collector.
I think my solution is actually better (for my needs) than if I had purchased the Adaptor Plate from Peachtree. Their solution fits directly on to the motor mount to project the setup outward from the machine, whereas my fixture is attached to the table, which means it stays in place regardless of the height of the table.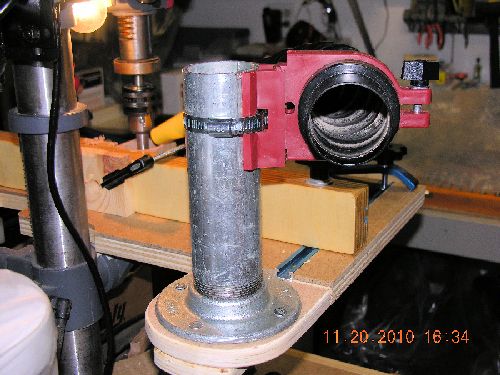 Admittedly, I would have a problem if I were to remove the shop made table and fence from my drill press, but I have never used this drill press without the table and don't see myself using it that way in the future.