Discussion Starter
·
#1
·
dado for shelves
this is a jig to do dados on the RAS .
the object , is to make accurate and repeatable cuts for shelving and whatnot .
and not cut the saw table or the backstop .
as with all of my RAS jigs , they must do these things ,
and leave the table , backstop and arm at 90deg. ,
so it does not get out of alignment .
.
this first pic. shows the crosscut dado .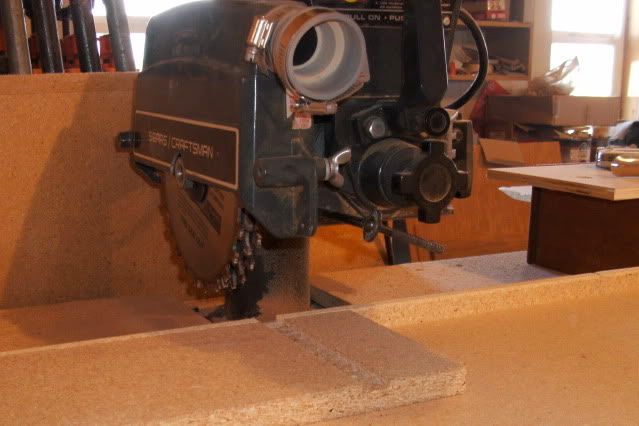 .
this pic. is the grove with shelf ( imagine ) the depth of cut is regulated by
raising or lowering the arm , and this jig has its own stop , that can be replaced
if it gets messed up .
.
this shot is the jig in it's normal state , not to big and heavy,
it is high enough to clear the saw fence .
it is 11 1/4 " wide , by 32" long .
.
this is the jig with the wings extended , for longer boards ,
over all , it is 80" in length , and can be simply moved in and out by hand .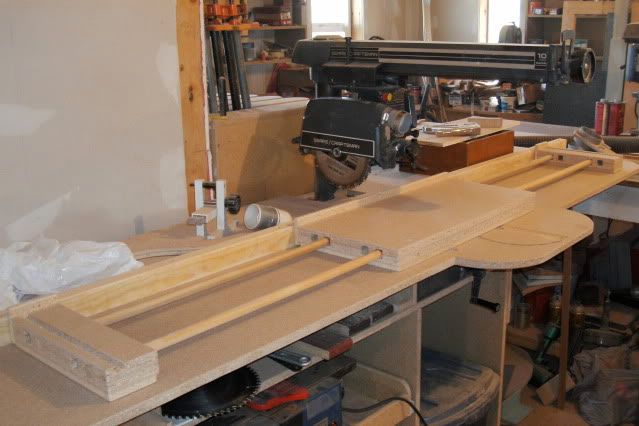 .
this is the registry dowels , that fit in holes in the table .
the bottom edge is shy of the table fence for sawdust ,
and the wings also for this reason .
put the jig on table and slide to drop it in to it's place .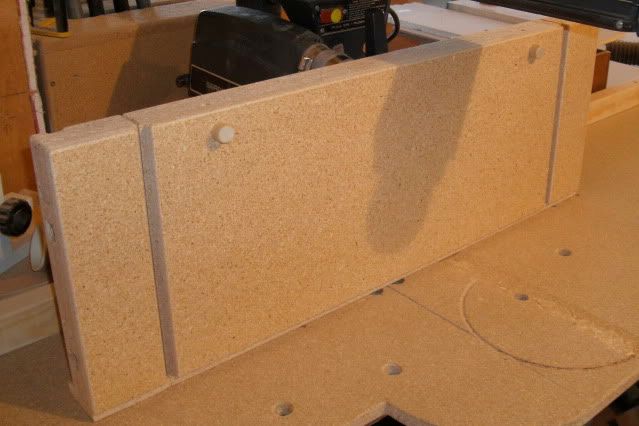 .
these are the holes for various other jigs that drop into place also .
when all is said and done , the saw is ready to crosscut or rip ,
and there are no clunks missing in the table or fence,
and the arm has not moved from its square position .
.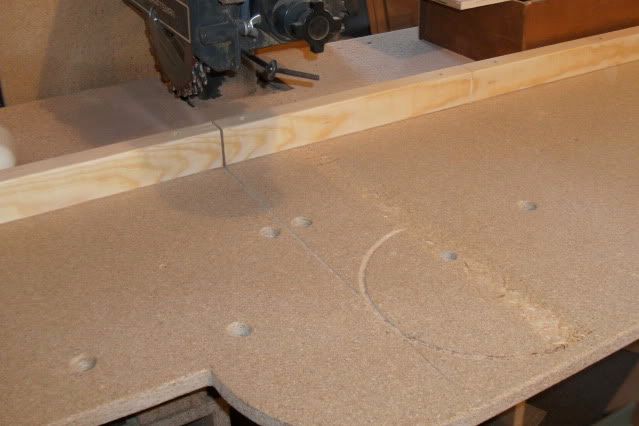 .
the construction of the jig , 4 groves 3/8" deep x 3/4" wide
are dadoed into 2 pieces of pb ( or whatever ) and the boards
screwed together and the ends cut for the wing rests .
4 - 3/4' dowels are in the square channels formed ,
( see ma , i can put a round peg in a square hole ) !
and 2 dowels are attached to one wing , and 2 to the other .
this whole thing is screwed together , no glue .
in case i need to repair or upgrade it later .
the stop is screwed to the back , and is replaceable .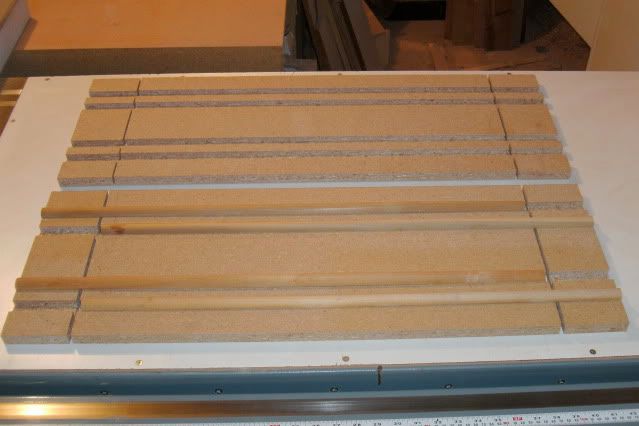 .
now that we got this far , i'm starting to think of stops for repeat cuts .
why it's a good idea to screw this together without glue !
.
as usual call jim , and he can answer all your questions .
( thanks jim . i got to go split firewood now )