I found a 8" grizzly jointer on Craigslist. The next day, drive about an hour and ten minutes and pull up to this guys hideaway with pole barns, old wooden barns and all kinds of stuff. I see an old trailer with about 6 Grizzly tools on it, a shaper, big bandsaw, dust collector, big lathe, big 20" planer, and my 8" jointer. All of these things had rusty tops but other than that they looked great.
Got to talking with him and he said he just got them three days ago from a 80 year old widow women down the road. Apparently they were pretty well off financially and back in 1995 her husband wanted to start a woodshop and bought all of these tools brand new from Grizzly. Unfortunately right after the purchase the man got sick and passed away leaving these tools sitting in his barn. Well, fifteen years go by and the tools just sit there. A few days ago the seller hears about this and he was wanting a new bandsaw so he went over to check it out. He came home with all of the tools only wanting one and planning on selling the rest (not sure what he paid for them but I bet it wasn't much, he told me he felt a little guilty).
Anyways, the tools may have never been turned on, he said he and his nephew looked through the tools and couldn't find a bit of sawdust so the widow's story must have been true. On the bandsaw, you could see where the miter gauge had been sitting for years because the metal looked great under where it sat. Anyways, I bought the jointer off of him and hauled it home and unloaded it into my shop with a forklift. It's a 1.5hp 2 phase machine so I think it should work nicely, should be a good first jointer anyways.
Oh yeah, it also came with an HTC mobile base that looks great. I see on the internet these things are going for around $180! I think I lucked up, or he did!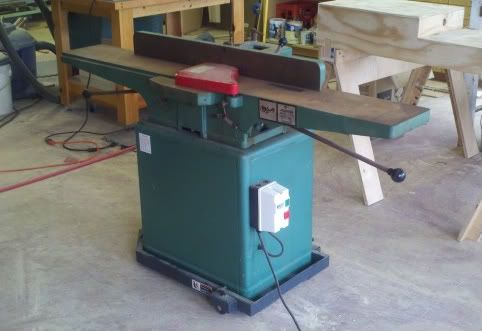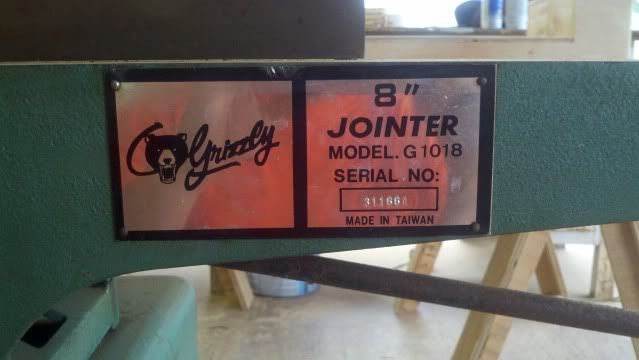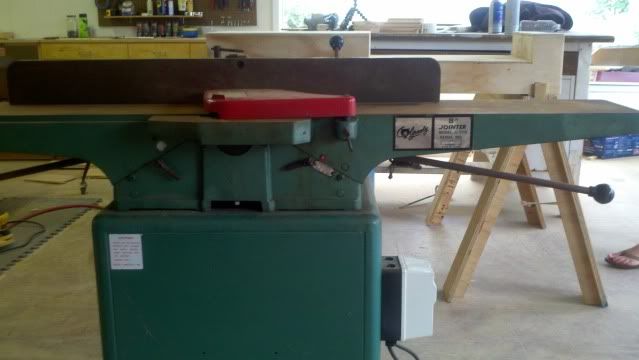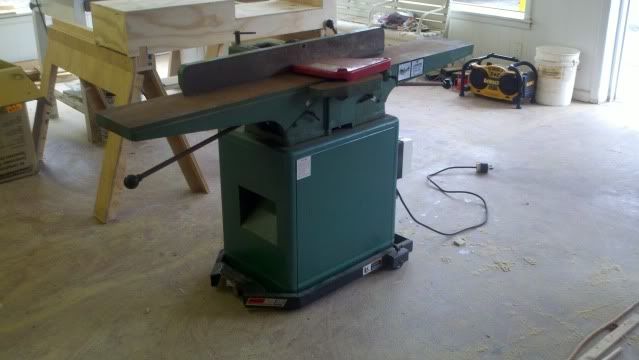 Todays project is to get this thing cleaned up, tuned up and milling some of that oak I bought!
My question is, I watched the Wood Wisperer's video on setting up a jointer and it was very informative. Although, my jointer doesn't have the same tuning properties as his big ole powermatic. It seems it just has those long rods inder each table and a few other adjustments where the tables meet in the base. Does anyone have some experience with tuning this bad boy? I have the manual in like new condition but it doesn't explain everything in first time jointer owner english.