Discussion Starter
·
#1
·
Initial Inventory
A combination of the 30 Projects in 30 Days challenge, my buddy Rustic setting up business in a craft mall, and stuff with no place to go caused me to seriously consider setting up in a craft mall myself. And with that consideration came a decision to do so. And, that decision resulted in going through my "stuff" and finding out what I had for inventory.
When I am not making a piece of full size furniture I make smaller items; boxes and pens mostly. I tend to give away a lot of them, but I don't enough people to distribute everything. Add to that the desire for this hobby to contribute to it's upkeep and the craft mall seemed an obvious solution.
So I gathered my cares and woes and here is what I came up with as an initial inventory:
A few wheelbarrow planters …
Some chairs for smallish people …
A bunch o'boxes, small and simple …
And a collection of pens and pencils …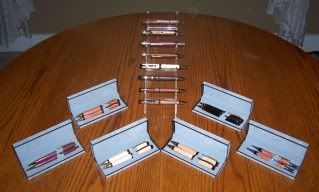 Hopefully, with Christmas not far down the road, some folks will see my "stuff" and consider them worthy gifts. I'm expecting an interesting and educational experience.