Discussion Starter
·
#1
·
The top is glued up and the components are rough cut
I'm in the process of building a new workbench based on
Bob Lang's bench
as detailed in the October 2008 issue of Popular Woodworking. I've read Christopher Schwarz book "
Workbenches: From Design And Theory To Construction And Use
" as well as several others. It always seemed like I wanted a combination of the features I found in most other benches. Bob Langs design was the first I'd seen that incorporated everything I wanted in a bench, so here goes!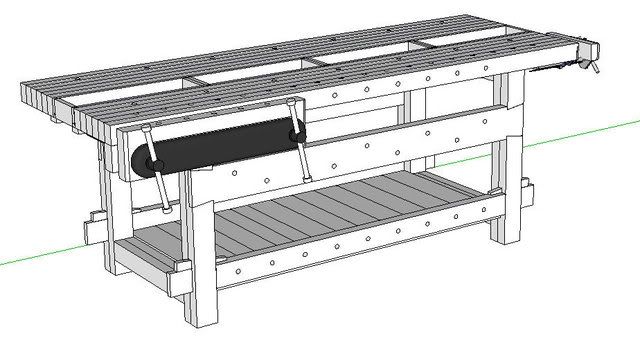 I bought 150bf of 8/4 Ash. I ripped twelve 8'x4 1/4" boards for the top. I needed about 2" from each board to make up the 11 3/4 inches for each half of the top. Unfortunately good straight lumber is hard to find and after the Ash got done moving and I jointed and planed it the 6 boards were only giving me about 10 3/4". So I ripped another board milled up another two pieces. Now I'm sitting at about 12 1/2" per side. Since each board was ripped from a single wider piece I decided to "bookmatch" the two halves of the bench. Nobody will ever notice but me I'm sure, but I thought it would be a nice touch with no extra work. Here are the boards: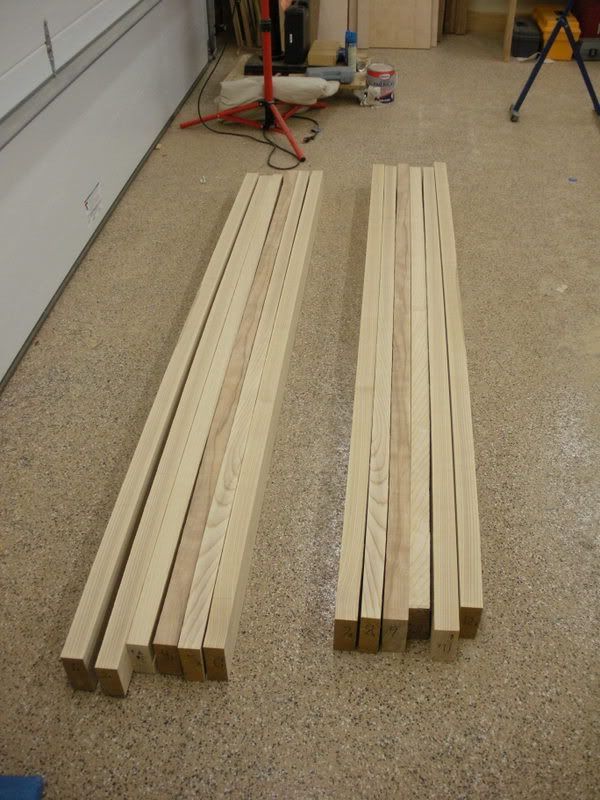 Then I started gluing up the boards. I started as Bob had advised by making sub-assemblies of two 2×4's and then using wooden clamps on the ends to keep things lined up, but I noticed that even the things were shifting a bit. I decided to change tactics. I started gluing the boards up one by one. Each time adding one more board in the sequence. This did two things for me. It let me work faster because I could glue it up and then after having it clamped for 30 minutes I would take it out of the clamps and add another board and re-clamp. Secondly, By only adding one more board I could clamps some parallel clamps across the boards to keep things lines up as I clamped them together vertically. This was MUCH easier than trying to finagle a twin screw wood clamp to keep things aligned. When I started this method things moved faster and came together very squarely.
After both sections of the top were glued up then I moved on to roughing out the other parts. All the parts are shown here: the bottom rails are closest, then the top rails, then the two halves of the bench top and stacked on that are the pieces that make up the bottom stretchers, the pieces that make up the top stretchers and then the eight pieces that make up the four legs.
So that's where I am now. Hopefully I'll get a little more time in the shop tonight to mill the other components four-square.