Discussion Starter
·
#1
·
Baby Steps
Well, like all proud woodworkers we share in the joy of our projects. For the parents out there, or soon to be parents we also take a certain joy in making something special for our loved ones. This project takes on that special joy as my wife and I are happily expecting our first this June. We are expecting a little boy, Logan, who is currently sticking his feet into my wife's ribs. I spent many hours searching high and low for plans for that perfect crib. I knew I wanted a sleigh style crib, and the material would be obvious, solid cherry the entire way. I finally found a plan that my wife and I both liked (Image below)
The next stop was obvious, I can't possibly begin to make until the trip to the local lumber store was made. Living in KC, Schutte Lumber is a great and friendly place to get lumber for projects. It is a bit of a drive but it's a good place to go without waiting for a craigslist post to offer up someone's unwanted lumber. The other main reason was the need for 8/4 rough stock so I could resaw into the required 1 1/2 inch thick stock for the 4 main legs. The top shelf of my lumber rack is the cherry that will eventually become my son's new sleeping quarters. This is also a good view of my "shop" which is my "half" of the garage. The lumber on the lower racks is a lot of white ash I purchased over a year ago at a cabinet shop auction that was closing their doors after many decades.
The only part I have worked on (as I have been in and out of town and continue to attempt to get the house ready to sell so we can build our new house) has been the legs out of the 8/4 rough stock. I laid out the full size templates which came with the plans and used my brand new Grizzly band saw to cut out the pieces. I LOVE THAT BANDSAW!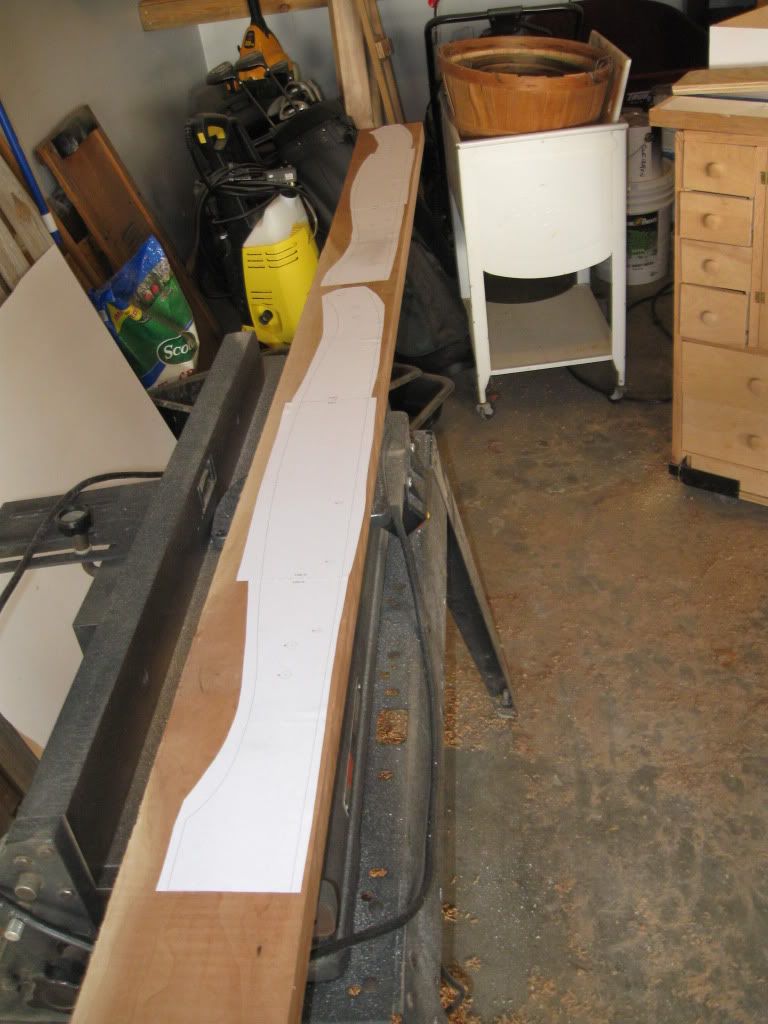 The pieces are cut out, but need sanding after the initial cuts. More pics to come in the following week. We are expecting warm weather this weekend (thank god because KC hasn't seen a 60 degree day since October) and a lot of progress should be made. Stay tuned!